The Thomas More Law School seeks to develop confident, responsible and ethical law graduates committed to upholding the rule of law, promoting personal dignity, thriving communities, and the common good.
The Thomas More Law School does this through:
intellectually challenging learning experiences
skills development in mooting, advocacy, negotiation, and communication
community legal engagement and pro bono placements
international study opportunities at our Rome Campus and our international partner universities
rich research culture, including honours for select students
supportive, inclusive and caring learning environment and staff.
Our courses are accredited for admission as a lawyer throughout Australia.
St Thomas More: a man of law, conscience and courage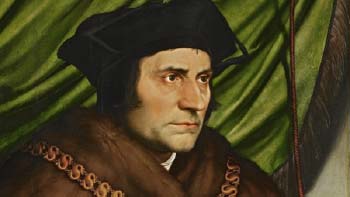 "Sir Thomas More" (1527) by Hans Holbein the Younger
Who is Thomas More?
St Thomas More was an English lawyer, politician and author of Utopia,among other great works. Deeply devout, highly intelligent, and a man of good humour, Thomas More was the first lay person to hold the position of Lord Chancellor of England.
He was born in 1478 and executed in 1553 following a trial in which he was accused of treason against Henry VIII.
Thomas More is the patron saint of lawyers, politicians, large families and those who have difficult marriages. He was declared a saint by Pope Pius XI in 1935.
Following in his footsteps
Thomas More was a man of courage and conscience – a lawyer who sought to abide by the law in the face of pressure, and who used the law to defend what he believed was right. In his private, public, and legal lives, he sought to conform the just and the good, truth and the law.
He is recognised as a person who, in answer to his conscience, "knew how to despise resolutely the flattery of human respect, how to resist in accordance with his duty…and how to renounce with dignity the high office with which he was invested." (Pope Pius XI)
For lawyers today, Thomas More is an exemplar of service, courage and the commitment to stand for what is right.