Physician heal thyself…?
Caring for the carers in Catholic health
Speakers include:
Professor Suzanne Chambers AO: Executive Dean, Faculty of Health Sciences, ACU
Dr Dennis Gonzales: Senior Director, Mission Innovation and Integration, Catholic Health Association of the United States
Ms Sharon Sherwood: Chief of Mental Health and Outreach Services, Cabrini Health
Ms Brigid Meney (moderator): Director, Strategy and Mission, Catholic Health Australia
In collaboration with: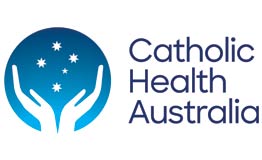 Note: The recording is made available through MS Teams. If you are not taken directly to the event recording, you will be asked to sign in or to join anonymously. Please join anonymously. For the best experience, we recommend using a laptop or desktop computer. Some users have experienced technical difficulties using tablets and mobile phones.