Author: Caitlin Ganter
Considering postgraduate study? There's a plethora of information available, and it can be easy to get confused. But we've got you covered. Check out the most common questions asked by prospective postgraduate students.
1. What will it cost, and how do I pay?
As a university student you'll need to consider a range of expenses, such as books, fees and study supplies. But you'll find plenty of support, and you won't necessarily have to pay everything upfront.
In terms of your tuition fees, postgraduate programs are offered as either Commonwealth supported places (CSP) or full fee-based enrolment places. A CSP is subsidised by the government, and you make a contribution to the cost of tuition. In a full fee-based place, you pay the total tuition fee to the university.
There's a range of financial support options you can consider:
Government loans: CSP students may be able to access HECS-HELP, and full fee-based students may be eligible for assistance through FEE-HELP.
Government financial support: Look at programs like SA-HELP, ABSTUDY and Austudy to see if you're eligible for financial assistance.
Scholarships: Universities and governments offer a huge range of scholarships that can help subsidise tuition fees and expenses.
Employer contributions: If your study is to meet employer requirements, or will make you more effective in the workplace, they may help cover a percentage of your course fees.
2. What will my timetable look like?
There is no single answer to this. Different programs are taught in different ways. Some programs are taught intensively: so each unit could be taught over separate weekends or even four day blocks. Other courses will be offered entirely online, and some will have set on-campus classes each week.
Postgraduate study is usually designed to work around busy lifestyles. There is no one study mode, so consider the flexibility and the modes offered when you're choosing your degree, and talk to a postgrad expert who can give you more details around the course you're interested in.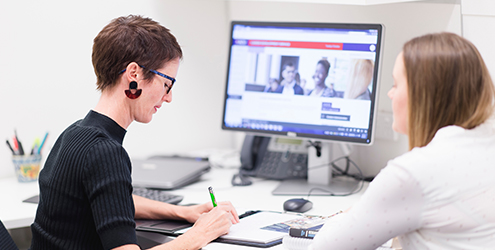 3. Does my postgraduate degree have to be related to my undergraduate degree?
In most cases, no. While some programs will require you to have a background in a relevant discipline, most will allow you to explore new ones. This gives you the opportunity to get qualified for a brand-new career. For example, students can complete postgraduate counselling or teaching programs to gain the required qualifications for a career in those industries, even without related prior experience.
On the other hand, some courses (particularly postgraduate health programs such as rehabilitation) will require you to have prior experience or qualifications. These courses are usually designed to provide you with further skills or specialisations to advance your career in your current, or a related, industry.
4. Can I work while I'm studying?
Usually yes, although this is a personal decision that needs to be based around your existing circumstances, commitments and priorities. Postgraduate study is offered in various modes (eg online), and you can choose to study part-time or full-time. It's very common for people to study part-time while also maintaining a full-time job.
5. I've still got questions – who can help me?
We've got you covered. If you've got questions, our AskACU team can help. You can check FAQs, text us, email, live chat, call – whatever works for you. We also run a range of events designed for anyone considering postgraduate studies. Find an event that suits you.
Think you're ready for postgraduate study? Explore our courses.