Associate Professor Stuart Cormack
Deputy Director & Performance Program Lead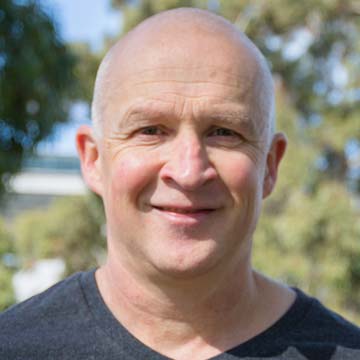 Areas of expertise: training load monitoring; fatigue; performance
Phone: +61 3 9953 3133
Email: Stuart.Cormack@acu.edu.au
Location: ACU Melbourne Campus
ORCID ID: 0000-0002-1846-5397
Associate Professor Stuart Cormack has been involved in High Performance Sport as both a practitioner and researcher for over 25 years. His career has spanned Olympic Sport through work at the Australian Institute of Sport and Professional Sport via roles at multiple Australian Football League clubs. Dr Cormack completed his PhD at Edith Cowan University and has published numerous papers and book chapters in a variety of areas related to athlete performance with a particular focus on load and fatigue. As part of his role at ACU, Dr Cormack is the Deputy Director and Performance lead of the Sports Performance, Recovery, Injury and New Technologies (SPRINT) Research Centre. In addition, Dr Cormack regularly provides consultancy to a range of National and International Sporting Programs.
---
Select publications
Tofari PJ, Kemp JG, and Cormack SJ. Self-paced team-sport match simulation results in reductions in voluntary activation and modifications to biological, perceptual, and performance measures at halftime and for up to 96 hours post match. Journal of Strength and Conditioning Research 32: 3552-3563, 2018.
Tofari PJ, Kemp JG, and Cormack SJ. Measuring the response to simulated fixture congestion in soccer. Science and Medicine in Football: 1-12, 2020.
Rowell AE, Aughey RJ, Clubb J, and Cormack SJ. A Standardized Small Sided Game Can Be Used to Monitor Neuromuscular Fatigue in Professional A-League Football Players. Frontiers in Physiology 9, 2018.
Rowell AE, Aughey RJ, Hopkins WG, Esmaeili A, Lazarus BH, and Cormack SJ. Effects of Training and Competition Load on Neuromuscular Recovery, Testosterone, Cortisol, and Match Performance During a Season of Professional Football. Frontiers in Physiology 9, 2018.
Gallo TF, Cormack SJ, Gabbett TJ, and Lorenzen CH. Self-reported wellness profiles of Australian Football Players During the Competition Phase of the Season. Journal of Strength and Conditioning Research 31: 495-502, 2017.
Gallo TF, Cormack SJ, Gabbett TJ, and Lorenzen CH. Pre-training perceived wellness impacts training output in Australian football players. Journal of Sports Sciences 34: 1445-1451, 2016.
Gescheit DT, Cormack SJ, Duffield R, Kovalchik S, Wood TO, Omizzolo M, and Reid M. Injury epidemiology of tennis players at the 2011-2016 Australian Open Grand Slam. British Journal of Sports Medicine 51: 1289-1294, 2017.
Appleby BB, Cormack SJ, and Newton RU. Unilateral and Bilateral Lower-Body Resistance Training Does not Transfer Equally to Sprint and Change of Direction Performance. The Journal of Strength & Conditioning Research 34: 54-64, 2020.
Lalor B, Halson S, Tran J, Kemp J, and Cormack S. Competition Sleep Is Not Compromised Compared To Habitual In Elite Australian Footballers. International journal of sports physiology and performance: 1-23, 2017.
Mooney MG, Cormack S, O'Brien BJ, Morgan WM, and McGuigan M. Impact of Neuromuscular Fatigue on Match Exercise Intensity and Performance in Elite Australian Football. Journal of Strength and Conditioning Research 27: 166-173, 2013.
Sweeting AJ, Cormack SJ, Morgan S, and Aughey RJ. When Is a Sprint a Sprint? A Review of the Analysis of Team-Sport Athlete Activity Profile. Frontiers in Physiology 8, 2017.
Ruddy JD, Cormack S, Timmins RG, Sakadjian A, Pietsch S, Carey DL, Williams MD, and Opar DA. Factors that Impact Self-reported Wellness Scores in Elite Australian Footballers. Medicine and Science in Sports and Exercise, 2019.
Franchini E, Cormack S, and Takito MY. Effects of High-Intensity Interval Training on Olympic Combat Sports Athletes' Performance and Physiological Adaptation: A Systematic Review. Journal of Strength and Conditioning Research 33: 242-252, 2019.
Projects
Current PhD Student Projects
The Use of Triaxial Accelerometry to Measure Stride Parameters and Vertical Stiffness in Team Sport Athletes
Assessment of Sleep Characteristics of Elite Team Sport Athletes
Development of Strength and Intermittent Fitness Testing Protocols for the Kettlebell Swing
Mental Fatigue in Sport
Other Projects
Determining the Reliability and Validity of Performance Tests in Winter Sports Athletes
Invisible Monitoring of Fatigue in Athletes
The Applied Sport Science and Medicine of Netball: A Systematic Scoping Review
Accolades and awards
Australian Strength & Conditioning Association Life Member
2016 ACU Vice-Chancellor's Postgraduate Teaching Excellence Award
Appointments and affiliations
Appointments
Strength & Conditioning Consultant Australian Institute of Sport Combat Centre
Member Judo Australia Sports Science and Sports Medicine Committee
Professional Affiliations
Australian Strength & Conditioning Association, Level 3 Master Coach
International journal review panel
Journal Reviewer
Journal of Strength & Conditioning Research
International Journal of Sports Physiology & Performance
Sports Biomechanics
Science and Medicine in Football
European Journal of Sports Science