Get involved
The exercise oncology team at ACU is committed to enhancing the lives of people with cancer through innovative research and effectively translating research into practice. There are a variety of ways you can get involved with our work towards this goal:
Participate in a research study
Our work simply isn't possible without the involvement of research participants. People who participate in our studies receive best practice care and advice from a compassionate group of specialists who are dedicated to improving their health and wellbeing. Their involvement provides extremely valuable information regarding the impact of exercise on the health and wellbeing of people with cancer and has the potential to improve the information and services provided to other cancer patients worldwide. We really value and appreciate the time and contribution our participants make to advancing the scientific knowledge surrounding the role of exercise for people with cancer.
People who have participated in our research trials have stated:
"I feel healthier and much happier with myself" – Ian, 67 year old with prostate cancer
"I have increased my belief in my own capabilities. The exercise program has set new boundaries for me" – Eva, 82 year old with breast cancer
"I've got nothing but praise for the program, so much care goes into it. I enjoy it and have gained dramatic benefit " – Phil, 64 year old with brain cancer
"I found it very beneficial. I feel fitter, I don't feel as fatigued and it's helped me clear my mind" – Mark, 49 year old with pancreatic cancer
"I feel so much stronger, I have more stamina and I can cope with and manage my condition better" – Jenni, 60 year old with breast cancer
"I managed to overcome my negativity and found new energy levels that I thought I lost forever" – Alan, 74 year old with prostate cancer
If you are interested in getting involved with one of our studies or just finding out more information about what's involved please do get in touch. We're looking forward to hearing from you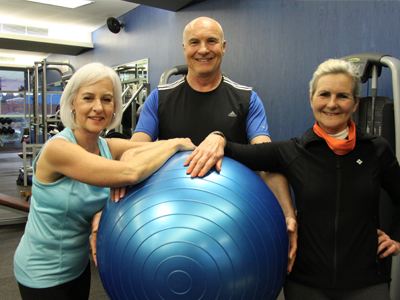 ---
Complete a higher degree by research with us
We're recruiting students from all backgrounds who are interesting in pursuing impactful research that has the potential to make a real difference to the lives of people affected by cancer. Opportunities exist to join our team as a masters or doctoral student as well as for those interested in pursuing postdoctoral training.
Joining our team will not only provide you with the opportunity to develop an independent research career with guidance from our senior academic staff and clinical collaborators; but you'll also have the opportunity to get involved with the team's extensive research and engagement activities as well as benefiting from the Institute of Health and Ageing's collaborative, multidisciplinary research environment.
Please do get in touch if you are interested in discussing opportunities to study with us. We're looking forward to hearing from you!
---
Volunteer Your Time With Us
The exercise oncology team warmly welcomes volunteers from all backgrounds who are keen to contribute to supporting and extending our work. We provide a rewarding learning environment for students seeking work experience or practicum placements to gain professional experience and improve employability. Additionally, we are eager to work with professionals who are interested in volunteering their time and expertise to enhance our efforts to improve the lives of people with cancer.
Opportunities are available for volunteers with experience in areas such as:
Exercise Physiology/Exercise Science
Public Health/Health Promotion
Medicine and Nursing
Information Technology/Computer Science
Visual Arts and Design
Media Communication
Public Relations and Event Management
Community Services
Fundraising
Other related areas
Furthermore, people with cancer and/or their family and friends are always welcome to contribute to our work.
If you are interested in volunteering your time or just discussing the possibility of getting involved please do get in touch. We're looking forward to hearing from you!