You could be eligible to participate in exciting research looking at the effect of time-restricted eating on controlling changes in blood sugars associated with type 2 diabetes.
Diet is a common first-line treatment for individuals with type 2 diabetes, used to improve blood glucose control. Time-restricted eating (TRE) is a dietary strategy that encourages longer periods of fasting by reducing the time window that energy is consumed. It has been proposed that by purposefully delaying breakfast and bringing the dinner meal earlier in the evening, in a TRE pattern, blood glucose regulation may improve.
What is involved?
Attending the laboratory on 8 occasions (~10 h total), for non-invasive measures (including blood sampling and questionnaires)
Monitoring your dietary intake for a five-week study period, including four weeks of time-restricted feeding (reducing your eating window)
Benefits to participation
Metabolic health profile in the form of an individual report at the conclusion of the study
Usage of continuous glucose monitors for six weeks, with individual reports from each week at the conclusion of the study
Advancing medical research
$250 of vouchers for supermarket purchases
Who can participate?
Eligible participants will be aged between 35 to 65 years, have been diagnosed with type 2 diabetes mellitus (diet-controlled or taking up to 2 oral hypoglycaemic agents for at least 3 months), have a BMI between 25 and 45 kg/m2 and be able to attend our laboratory in Fitzroy, VIC, over a 7-week period.
Contact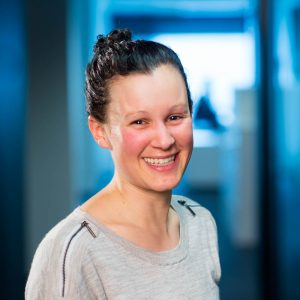 Dr Evelyn Parr
Post-Doctoral Research Fellow
E: evelyn.parr@acu.edu.au
Ph: 03 9230 8278 or M: 0413 477 697
Ethics Approval: 2018-75H