Associate Professor Prue Cormie
Principal Research Fellow in Exercise Oncology
Exercise and Nutrition Research Program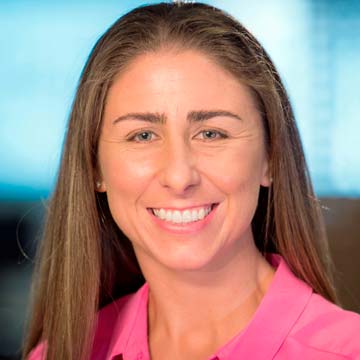 Areas of expertise: exercise Oncology
ORCID ID: 0000-0002-3446-2698
Phone: +613 9230 8242
Email: prue.cormie@acu.edu.au
Location: ACU Melbourne Campus
Associate Professor Prue Cormie is an Accredited Exercise Physiologist whose research and clinical work focuses on the role of exercise in the management of cancer. Her track record includes over $9 million in competitive research grant funding and over 70 refereed publications and book chapters. She leads the Exercise Oncology Team within the Mary MacKillop Institute for Health Research.
Associate Professor Cormie's research program seeks to understand the application of exercise as medicine for the management of cancer and involves the convergence of exercise science, cancer care and innovation in allied health services. She has produced influential research exploring the efficacy of targeted exercise prescriptions in counteracting significant side effects of cancer and cancer treatments. A core component of her work is invested to translating research into practice for meaningful improvements in health care services for people with cancer.
Associate Professor Cormie is the inaugural Chair of the Clinical Oncology Society of Australia Exercise Cancer Group and leads the Exercise and Sports Science Australia Cancer Special Interest Group. She is a passionate science communicator with over 250 invited presentations in the last 5 years including in a TEDTalk: A new contender in the fight against cancer.
---
Select publications
Cormie P, Atkinson M, Bucci L, Cust AE, Eakin E, Hayes SC, McCarthy AL, Murnane A, Patchell S and Adams D. Clinical Oncology Society of Australia position statement on Exercise in cancer care. Medical Journal of Australia. 209(4):184-187. 2018.
Galvão DA, Taaffe DR, Spry N, Cormie P, Joseph D, Chambers SK, Chee R, Peddle-McIntyre C, Hart NH, Baumann FT, Denham J, Baker M and Newton RU. Exercise preserves physical function in prostate cancer patients with bone metastases. Medicine and Science in Sport and Exercise. 50(3):393-399, 2018.
Cormie P, Zopf EM, Zhang X and Schmitz KH. Impact of exercise on cancer mortality, recurrence and treatment related side effects. Epidemiological Reviews. 39(1):71-92, 2017.
Taaffe DR, Newton RU, Spry N, Joseph D, Chambers SK, Gardiner RA, Wall BA, Cormie P, Bolam KA and Galvão DA. Effects of different exercise modalities on fatigue in prostate cancer patients undergoing androgen deprivation therapy: a year-long randomised controlled trial. European Urology. 72(2):293-299, 2017.
Cormie P, Galvão DA, Spry N, Joseph D, Chee R, Taaffe DR, Chambers SK and Newton RU. Can supervised exercise prevent treatment toxicity in prostate cancer patients initiating androgen deprivation therapy: A randomised controlled trial. British Journal of Urology International. 115(2):256-66, 2015.
Projects
Accolades and awards
2019 - Finalist, Allied Health Award Exercise Physiologist of the Year Award

2019 - Finalist, Allied Health Award Impact Achievement Award

2017 & 2018 - Exercise and Sports Science Australia's Women in Leadership Award

2017 - Steven Grunberg Award (highest-ranking abstract submitted to the Annual Scientific Meeting), Multinational Association for Supportive Care in Cancer

2015 - Young Tall Poppy of the Year Science Award (Western Australia), Australian Institute of Policy and Science

2015 - Cancer Council Western Australia Early Career Cancer Researcher of the Year Award
2014 - Finalist for the Western Australian Premier's Early Career Scientist of the Year Award, Office of Science, Government of Western Australia