Dr Amanda Wheeler
Senior Research Fellow
Behaviour, Environment and Cognition Research Program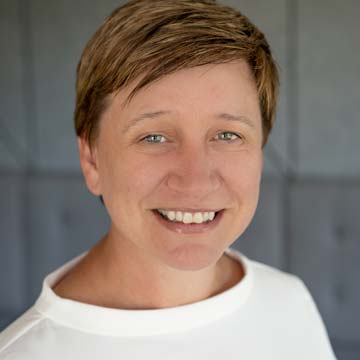 Areas of expertise: air quality, personal exposure, biomass smoke, interventions
ORCID ID: 0000-0001-9288-8163
Phone: +613 9230 8366
Email: Amanda.Wheeler@acu.edu.au
Location: ACU Melbourne Campus
Dr Amanda Wheeler is a Senior Research Fellow in the Behaviour, Environment and Cognition Research program based at the Mary MacKillop Institute for Health Research, Australian Catholic University. She is part of the team investigating the effects of the built environment, air pollution and noise on the cognitive health of older adults. Her other research interests include evaluating interventions to improve indoor air quality that is impacted by biomass smoke. Her published research interests include personal exposures to air pollution from residential and ambient sources, tracking activity patterns, and understanding the intra-urban variability of air pollutants using GIS tools and developing Land Use Regression (LUR) models. She has experience with a range of environmental pollutants including particulate matter, volatile organic compounds, phthalates and polycyclic aromatic hydrocarbons. She is also an Honorary Fellow at the University of Tasmania and The University of Melbourne.
---
Select publications
Shao, J., Zosky, G.R., Hall, G., Wheeler, A.J., Dharmage, S., Melody, S., Dalton, M., Foong, R., O'Sullivan, T., Williamson, G.J., Chappell, K., Abramson, M. and Johnston, F.H. (2019) Early life exposure to coal mine fire smoke emissions and altered lung function in young children. Respirology, Early View doi.org/10.1111/resp.13617
Reisen, F., Powell, J., Dennekamp, M., Johnston, F.H. and Wheeler, A.J. (2019) Is remaining indoors an effective way of reducing exposure to PM2.5 during biomass burning events? Journal of Air and Waste Management Association. VOL. 69, NO. 5, 611–622
Johnston, F.H., Wheeler, A.J., Williamson, G.J., Campbell, S., Jones, P.J., Koolhof, I.S., Lucani, C., Cooling, N.B. and Bowman, D.M.J.S. (2018) Using smartphone technology to reduce health harms from airborne environmental hazards. Environmental Research Letters. 14 (4)
Mallach, G., St-Jean, M., MacNeill, M., Aubin, D., Wallace, L., Shin, T., Van Ryswyk, K., Kulka, R., You, H., Fugler, D., Lavigne, E. and Wheeler, A.J. (2017) Exhaust ventilation in attached garages improves residential indoor air quality. Indoor Air. 27: 487–499
Dirgawati, M., Heyworth, J.S., Wheeler, A.J., McCaul, K.A., Blake, D., Boeyen, J., Cope, M., Yeap, B.B., Nieuwenhuijsen, M., Brunekreef, B. and Hinwood, A.L. (2016) Development of Land Use Regression Models for Particulate Matter and Associated Components in an Area with Low Air Pollutant Concentrations. Atmospheric Environment. Vol. 144:69-74.
MacNeill M., St-Jean, M., Dobbin, N., Wallace, L., Marro, L., Shin, T., You, H., Kulka, R., Allen, R.W. and Wheeler, A.J. (2016) Can Changing The Timing Of Outdoor Air Intake Reduce Indoor Concentrations Of Traffic-Related Pollutants In Schools? Indoor Air. 26:687–701
Wheeler, A.J., Gibson, M.D., MacNeill, M., Ward, T.J., Wallace, L.A., Kuchta, J., Seaboyer, M., Dabek-Zlotorzynska, E., Guernsey, J.R. and Stieb, D.M. (2014) Impacts on Indoor Air Quality in Residences Impacted by Wood Smoke. Environmental Science and Technology. Vol. 48: Iss. 20: 12157–12163
Kearney, J., Wallace, L., MacNeill, M., Héroux, M-E., Kindzierski, W. and Wheeler, A.J. (2014) Residential infiltration of fine and ultrafine particles in Edmonton. Atmospheric Environment. Vol. 94: 793-805
Nethery, E., Mallach, G., Rainham, D., Goldberg, M.S. and Wheeler. A.J. (2014) Using Global Positioning Systems (GPS) and temperature data to generate time-activity classifications for estimating personal exposure in air monitoring studies: An automated method. Environmental Health. Vol.13: Iss.1
Goldberg, M.S., Wheeler, A.J., Burnett, R.T., Mayo, N.E., Valois, M-F., Brophy, J.T. and Giannetti, N. (2014) Physiological and perceived health effects from daily changes in air pollution and weather amongst persons with heart failure: A panel study. Journal of Exposure Science and Environmental Epidemiology. Vol. 25: Iss. 2: 187 - 199
Accolades and awards
2018 Menzies Institute for Medical Research, University of Tasmania. Research Impact Prize - AirRater.
2016 Australian Information Industry Association (AIAA) Tasmanian iAwards in the category of Community Services - The AirRater project. National runner up and state winner.
2016 Resilient Australia awards - Community Services category. Tasmanian State winners for AirRater project.
2013 Health Canada, Deputy Minister's Award for Excellence in the category of Science.
2013 Health Canada, Healthy Environments and Consumer Safety (HECS) Branch Assistant Deputy Minister's Award for Excellence in the category of Science.
Public engagement
During the Community Impacts of Smoke project, I met with communities impacted by biomass smoke to inform them about the project's goals and available tools that were available to report smoke and any associated symptoms.
Appointments and affiliations
2018 – present, Senior Research Fellow, Behaviour, Environment and Cognition Research Program, Mary McKillop Institute for Health Research, Australian Catholic University, Melbourne, Victoria.
2018 – present, Adjunct Research Fellow, Menzies Institute for Medical Research, University of Tasmania, Hobart, Tasmania.
2015 – 2018, Research Fellow (2017-2018 0.8 FTE; 2015-2017 0.1 FTE), School of Public Health, Curtin University, Perth, Western Australia.
2015 – 2018, Research Fellow (2017-2018 0.2 FTE; 2015-2017 0.9 FTE), Menzies Institute for Medical Research, University of Tasmania, Hobart, Tasmania.
2015 – present, Senior Research Fellow (Honorary), University of Melbourne, Melbourne, Victoria.
2015 –2018, Senior Research Fellow (Adjunct), School of Sciences, Edith Cowan University, Perth, WA.
2013 – 2016, Associate Professor (Adjunct), School of Population Health, University of Western Australia
2013 – 2015, Senior Research Fellow, Faculty of Health, Engineering and Science, Edith Cowan University 2009 – 2013, Research Scientist, Air Health Science Division, Health Canada, Ottawa, Ontario
International journal review panel
Environmental Science and Technology, Environmental Health Perspectives, Journal of Exposure Science and Environmental Epidemiology, Environmental Research, Journal of Air and Waste Management, Atmospheric Environment, Science of the Total Environment, Indoor Air, Environmental Pollution
Grant agency review panels
2018 Health Canada
2016 – present NERC and MRC (UK)
2013 – present Health Research Council of New Zealand
2012 – present Health Effects Institute, USA
2009 – present Swiss National Science Foundation, Switzerland