The Program in Biblical and Early Christian Studies pursues research on Greek, Latin, Syriac, and Coptic Christian traditions up to c. 1,000 CE, taking into account the manifold contexts within which these traditions developed.
In keeping with the foundational importance of the texts that came to form the canon of Christian scripture, one of the program's main areas of focus is the discipline traditionally known as biblical studies, though the program aims to put these texts in a wider historical context by examining less mainstream Christian traditions, as well as the reception of biblical texts in the late antique period and beyond.
A further aim of the program is to examine the way in which Christian traditions from the first century onwards interacted with the religious and cultural matrices out of which they emerged, especially the Jewish and Greco-Roman heritages. A related important area of research is exploring the processes associated with, and ramifications of, Christianity's growing power in the ancient world, and the transformation of the Roman Empire into Byzantium in the East and medieval Christendom in the West.
Hence, among the topics studied by our researchers are the interaction of canonical and non-canonical literature; Hellenistic Judaism, including Philonic studies; textual criticism and the history of the book; Christian attitudes towards medicine; experimentation with literary genres such as the dialogue; Christian practices of asceticism; the development of doctrine during this period; and Christian responses to the rise of Islam from the seventh century onwards. Moreover, our research aims to advance conversations with other areas of contemporary theology, hermeneutics, and religious studies.
Currently the program houses two large-scale grant projects that organise annual seminars at ACU's Rome campus, about which more below. The program also runs a fortnightly research seminar at ACU's Melbourne campus which showcases work in the field from around Australia and beyond. Current and past seminar schedules are available below and for queries contact Kylie Crabbe or Dawn LaValle Norman. Finally, the program welcomes applications from prospective students interested in pursuing a PhD or MA by research. For inquiries about these activities, please email program director Associate Professor Matthew Crawford .
Meet Program Director, Associate Professor Matthew Crawford
---
BECS seminar program
---
Our research team
Our global and multidisciplinary team of scholars are experts in the fields of philosophy, religion, and theology.
---
Current projects
Modes of Knowing and the Ordering of Knowledge in Early Christianity c. 100-700
We aim to study 'modes of knowing' constructed by Greek, Latin and Syriac Christians 100-700 CE in relation to contemporary theological, philosophical, medical and rhetorical discourses, social practices (asceticism, pilgrimage, liturgies), imperial and institutional power structures, and the material world of early Christianity (relics, sacred texts). We then ask how this construction of Christian epistemologies through cultural and intellectual appropriations might inform modern theological reflection on Christian traditions engaging with modernity. The project thus aims to advance a novel account of early Christian epistemology and intellectual culture and provide resources for interactions between faith and culture today.
The Project is led by Prof. Lewis Ayres and four other Chief Investigators: Michael Champion, Matthew Crawford, Jane Heath (Durham), and Andrew Radde-Gallwitz (Notre Dame).
Texts, Traditions, and Early Christian Identities
The Program will address the question: How did the earliest Christian communities employ texts and traditions ascribed to a sacred past to negotiate issues relating to their identity – who they were, why they existed, how they differed from others? Otherwise expressed: How far is early Christian reception of normative texts and traditions motivated by the need for communal self-definition in the face of perceived challenges and threats arising from within and without? The first version of the question asks about the role of texts and traditions in the work of identity construction; the second asks about the role of identity construction in the reception and deployment of texts and traditions. Whether the emphasis lies on identity or reception, the fundamental aim is to investigate the interaction of these two concepts, each of which represents a constitutive element in early Christian communal life.
The Project is led by Prof. Francis Watson (ACU/Durham) and six other Chief Investigators: John Barclay (Durham), Reimund Bieringer (KU Leuven), Stephen Carlson (ACU), Ben Edsall (ACU), David Sim (ACU), and Joseph Verheyden (KU Leuven).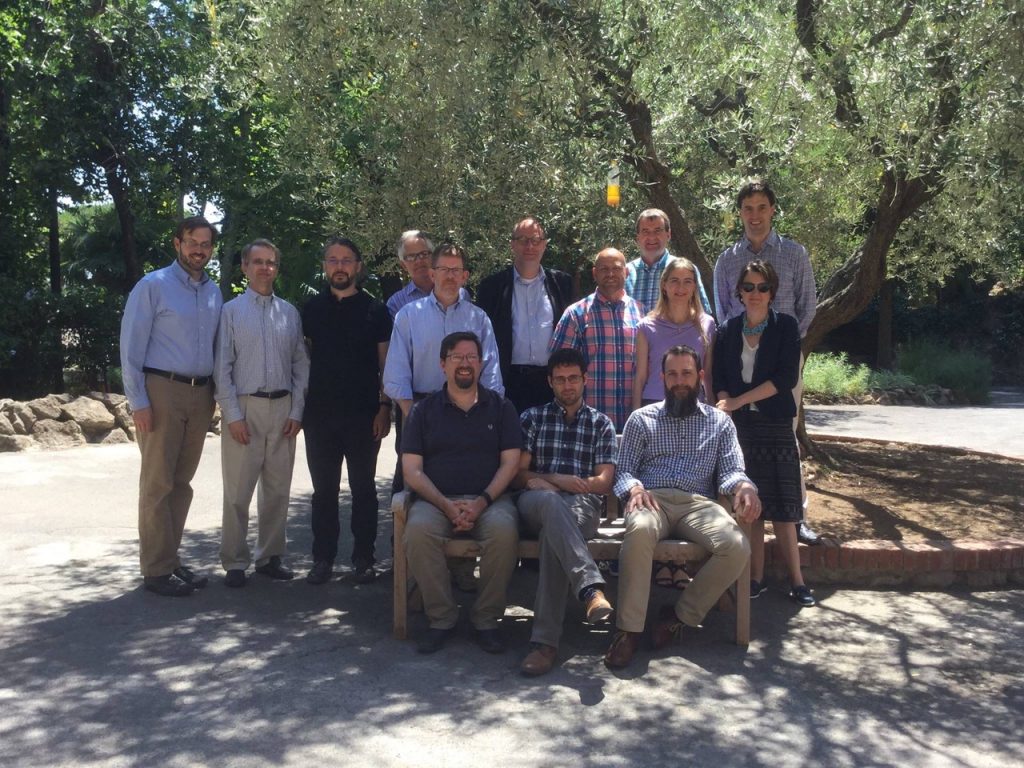 ---
Recent Australian Research Council Projects 2010-2020
Matthew Crawford 'Religious belief and Social cohesion', Cyril of Alexandria's Contra Iulianum, ARC DECRA Project (DE180101539), $382,983.
This project aims to investigate the role of religious belief and educational training in the formation of a person's sense of self in society, leading to either social harmony or conflict. It does so by examining a moment of tension in late antique Alexandria to understand the processes that transformed classical antiquity into Byzantine Christendom. This historical analysis will provide Australians with a more multi-faceted understanding of the sources of Australian culture, so that they can better understand their heritage to promote social cohesion.
Bronwen Neil, Wendy Mayer, Pauline Allen, & Chris de Wet, 'Memories of utopia: Destroying the past to create the future (300-650 CE)', ARC Discovery Project (DP170104595), $396,500.
This project aims to examine the evidence for competing utopian ideologies in early Christianity, which was a prelude to the later clash with Islam from the seventh century onward. Evidence from pagan-Jewish-Christian conflicts in Late Antiquity (300-650 CE) shows that violent destruction of the past is not exclusive to fringe religious groups. These past conflicts are relevant for understanding the conflict in the Middle East, precisely because analysis of the sources shows that, in intra- and inter-religious conflicts in Late Antiquity in this same geographic region, violent destruction of the past was a propensity in mainstream religion.
Bronwen Neil, 'Dreams, Prophecy and Violence from Early Christianity to the Rise of Islam', ARC Future Fellowship (FT140100226), $843,142.
In Classical Greco-Roman society dreams or visions were sometimes understood as vehicles of divine revelation. Early Christians and Muslims developed the religious interpretation of dreams, using it to bolster the religious authority of their leaders, who laid claim to the Jewish tradition of prophets who brought messages from God. This project aims to uncover the development of dream interpretation from Classical Antiquity through early Christianity to early Islam and give an understanding of how dreams and visions were used as tools of religious control and as justification of violence against other religions.
Pauline Allen & Bronwen Neil, 'Negotiating religious conflict: Letters between Rome and Byzantium in the seventh century, an era of crisis', ARC Discovery Project (DP140101909), $150,000.
Over 1000 letters survive in Greek and Latin from 590 to the end of the seventh century, when the Byzantine empire was at war first with Persia, and then with the Arab forces united under the new faith of Islam. Bishops and Emperors of Rome and Byzantium used letters to negotiate their claims to universal and local power in the course of conflicts over religion. The project will increase our understanding of the ways in which religious conflict was handled through letter-exchange in early Medieval Europe and Byzantium, and what happened when these diplomatic avenues failed. It will shed light on the question of whether the seventh century was really the beginning of the Dark Ages, or a period of cultural regeneration.
Pauline Allen & Bronwen Neil, 'Crisis Management in Late Antiquity: the Evidence of Episcopal Letters', ARC Discovery Project (DP1093467), $262,000.
Appropriate responses to environmental and social crises, by individuals, communities, governments, religious and charitable organisations, are increasingly under focus in the twenty‑first century. Understanding the failures of past leaders as well as their successes is crucial for values‑driven policy making. This project reinforces the international reputation of quality Australian research in late‑antiquity studies by anchoring contemporary responses to management of crises such as natural disasters, climate change, population displacement, poverty, religious disputes, violence, and social abuses in their historical antecedents. The project will develop and reinforce existing links with scholars in Japan, Korea, Belgium and South Africa.
---
Recent ACU-funded projects
Biblical Studies: The origin, purpose and reception of the New Testament writings
Project Leader: Prof. Francis Moloney.
The writings that form the New Testament were constructed and then preserved in two quite distinctive contexts – the Jewish worldview and the Roman worldview. Investigating the origin, purpose and reception of New Testament writings, this project will provide the first comprehensive study of how the Jewish and Roman worldviews interacted in order to generate the self-identity of Christianity.
Early Christian Studies: Agency and Power in Early Christian Social and Church Issues
Project Leader: Prof. Pauline Allen.
Competition for power and agency in roles, positions and interests leads to social conflict. This project will explore the clash of interests at the genesis of religious conflict in early Christianity.
It demonstrates varying degrees of conflict from the theological and political dispute between leading East and West bishops to the violence that erupted as intolerance over legitimacy claims escalated. The project aims to provide a better appreciation of contemporary responses to Christian issues of power that will help identify successful resolution strategies for the future.