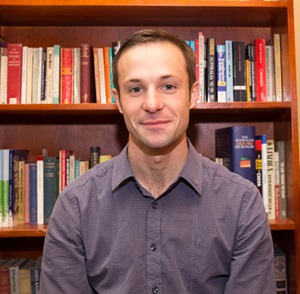 Xavier Symons
PhD Candidate
Philosophy
Xavier.Symons@myacu.edu.au
PhD Candidate

Previous Qualifications: BA Adv. (Hons) (University of Sydney), MA (Res.) (University of Sydney).

Thesis title: Health Care Ethics, Distributive Justice, and Meeting Health Needs Fairly

Supervisors: Dr Steve Matthews, Dr Stewart Braun.

Abstract:
In my thesis I answer the question, "How can we allocate health resources fairly under conditions of scarcity?". I approach this question from the perspective of political philosophy and ethics, though I draw heavily upon scholarship from the health sciences, psychology, sociology and economics. I advance welfarist account of health needs, according to which health is conceived of as an aspect of human welfare that is of both intrinsic and instrumental value; the meeting of health needs, I argue, is of critical importance to individual human wellbeing, in addition to any civic or political benefits that this may bring to society. I discuss the role of context in resource allocation, including the permissibility of aggregation and the moral relevance of identifiability in choosing which persons and/or groups to prioritise. I critique several extant theories of resource allocation often invoked in the literature, including the fair innings and complete lives approaches to allocation, as well as the rule of rescue/sickest first frameworks for healthcare resource allocation. In the latter sections I make the observation that allocation ethics is to a large extent contextual and situationist, insofar as the way in which health is valued differs depending on the spheres of allocation (micro, meso, macro) and the different healthcare contexts (disaster triage, organ transplantation and the allocation of vaccines) in which decisions are being made. I do, however, complement this descriptive claim with a prescriptive claim, namely, that individual health-related welfare should be given greater importance in the context of meso- and macro allocation decisions. This is precisely what "fairness" entails in resource allocation scenarios.

Bio:
Xavier Symons is a PhD Candidate in philosophy, working within the Moral Philosophy and Applied Ethics Program of the Institute for Religion and Critical Inquiry. Xavier's PhD research focuses on ethical issues surrounding the allocation of scarce health care resources. In addition to his PhD studies at ACU, Xavier is a Research Associate at the Institute for Ethics and Society, UNDA, and a bioethicist on Austin Health's Human Research Ethics Committee. He is also deputy editor of the online bioethics news service BioEdge. In October 2016 Xavier was a visiting scholar at the Pellegrino Centre for Clinical Bioethics, Georgetown University, and in May-June 2018 he was a visiting student at the Uehiro Centre for Practical Ethics, University of Oxford.
---
Key publications
with Reginald Chua OP. Organismal death, the dead-donor rule and the ethics of vital organ procurement. Journal of Medical Ethics. Published Online First: 19 June 2018.

with Natasha Michael, Julia Trimboli and Clare O'Callaghan. 'Extending awareness of Catholic Healthcare ethics among junior clinicians: A qualitative study' in Journal of Health and Religion (2017): 1-11. Published Online First 7th November 2017.

'The right to know vs. the right to privacy: Donor anonymity and the Assisted Reproductive Treatment Amendment Act 2016 (Vic)', in The Medical Journal of Australia 207;9 (2017): 377-378.

'Does the doctrine of double effect apply to the prescription of barbiturates? Syme vs the Medical Board of Australia', in The Journal of Medical Ethics, published Online First on 12th September 2017. doi:10.1136/medethics-2017-104230.

'Suffering, Euthanasia and Professional Expertise', in Solidarity: The Journal of Catholic Social Thought and Secular Ethics: 6 (1) 2016, published online at

'Two conceptions of conscience and the problem of conscientious objection', in The Journal of Medical Ethics 43 (2017): 245-247.

'A response to Robert Zuradzki's 'preimplantation genetic diagnosis and rational choice under risk or uncertainty'' in The Journal of Medical Ethics 40 (2014): 779.

'On the univocity of rationality: a response to Nigel Biggar's 'Why religion deserves a place in secular medicine'' in The Journal of Medical Ethics, 41 (2015): 870-872.

Popular media work

'Does the Doctrine of Double Effect Apply to the Prescription of Barbiturates? Syme vs the Medical Board of Australia', Journal of Medical Ethics Blog, 22nd September 2017.

With Udo Schuklenk. 'Viewpoints: should euthanasia be available for people with existential suffering?', The Conversation, 6th July 2017.

'All children deserve to know who their parents are', The Age, 2nd March 2017.

'Euthanasia and palliative sedation are distinct concepts – intent matters', The Conversation, 15th June 2016.

'Me Before You: life, disability and 'inspiration porn', The Conversation, 15th June 2016.