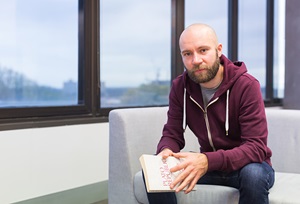 Dr Wojciech Kaftański
Alumnus
Philosophy
MA (University of Silesia) PhD (ACU)

Currently teaching Philosophy in the Faculty of Theology and Philosophy.

Visiting Scholar at Søren Kierkegaard Research Centre (University of Copenhagen, Denmark) in 2015 sponsored by IRCI project "Transcendence within Immanence,"

House Foundation Fellow at Hong Kierkegaard Library (St. Olaf College, USA) in 2011, MA in Philosophy (University of Silesia, Poland).

PhD Thesis topic: 'Mimesis' in Kierkegaard's Second Authorship

Supervisors: Dr Jeffrey Hanson, Dr Richard Colledge, and Prof. George Pattison (external supervision, University of Glasgow)

Interests (research areas)
My primary areas of interest are intersections between philosophy, religion and literature, but also studies in mimesis, issues of narrative identity, and autobiographical and fiction writing. My research focuses on the thought and legacy of Søren Kierkegaard, René Girard and Witold Gombrowicz.

Media

ABC Religion and Ethics Opinion 5/10/2018: Becoming oneself in a world of Kardashians: Imitation, admiration and the power of role models.
---
Key publications
Witold Gombrowicz: The Struggle for the Authentic Self in Kierkegaard Research: Sources, Reception and Resources Volume12: Kierkegaard's Influence on Literature, Criticism and Art Tome V: The Romance Languages, Central and Eastern Europe. Ashgate, 2013, pp. 139-156.

Sørena Kierkegaarda i René Girarda odczytanie Księgi Hioba (Søren Kierkegaard's and René Girard's interpretations of Job), Tekstualia vol. 3, no. 38, 2014, pp. 81-88.

Double-Reflection in Kierkegaard Research: Sources, Reception and Resources Volume15: Kierkegaard's Concepts Tome II, Classicism to Enthusiasm. Ashgate 2014, pp. 205-211.

Beyond the Imagery: The Encounters of Kierkegaard and Dostoevsky with an Image of the Dead Christ, The Dostoevsky Journal. An Independent Review, vol. 14, 2014, pp. 110-129.

Kierkegaard's Aesthetics and the Aesthetic of Imitation, Kierkegaard Studies Yearbook 2014, pp. 111-133.

Redoubling/Reduplication in Kierkegaard Research: Sources, Reception and Resources Volume 15: Kierkegaard's Concepts Tome V: Objectivity to Sacrifice. Ashgate, 2015, pp. 195-198.