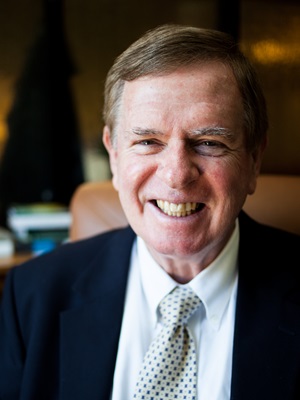 Professor Stephen Evans
Philosophy. Affiliate: Religion and Theology.
stephen.evans@acu.edu.au
BA (Wheaton), MPhil (Yale), PhD (Yale)

Professor Evans is a University Professor of Philosophy and Humanities at Baylor University and Professorial Fellow at Australian Catholic University. He is a past curator of the Howard V. and Edna H. Hong Kierkegaard Library at St. Olaf College, Minnesota, and a past president of both the Society of Christian Philosophers and the Søren Kierkegaard Society.
See also www.cstephenevans.com
---
Key publications
Single Authored Books

A History of Western Philosophy: From the Pre-Socratics to Post-Modernism, forthcoming in 2018 from InterVarsity Press Academic.

Why Christian Faith Still Makes Sense: A Response to Contemporary Challenges, (Grand Rapids, Michigan: Baker Academic Books, 2015) This book is part of the "Acadia Studies in Bible and Theology" series.

God and Moral Obligation (Oxford: Oxford University Press, 2013).

Natural Signs and Knowledge of God: A New Look at Theistic Arguments (Oxford: Oxford University Press, 2010) Published in Finnish (Perusssanoma Oy, 2017)

Kierkegaard: An Introduction (Cambridge: Cambridge University Press, 2009)

Kierkegaard's Ethic of Love: Divine Commands and Moral Requirements (Oxford: Oxford University Press, 2004)

Faith Beyond Reason (Edinburgh: Edinburgh University Press, 1998; and Grand Rapids, Michigan: Wm. B. Eerdmans, 1998)

The Historical Christ and the Jesus of Faith: The Incarnational Narrative as History (Oxford: Oxford University Press, 1996)

Books Edited or Translated

Co-editor (with Paul Martens) of Kierkegaard and Christian Faith (Waco, Texas: Baylor University Press, 2016)

Exploring Kenotic Christology: The Self-Emptying of God (Oxford: Oxford University Press, 2006). Paperback edition: Vancouver: Regent College Publishing, 2010.

Articles

"Normative Objections to Atheism," forthcoming in A Companion to Atheism and Philosophy, ed. Graham Oppy (Wiley-Blackwell)

"Fideism," with Karl Aho (first author), forthcoming in Encyclopedia of Philosophy of Religion, edited by Stewart Goetz and Charles Taliaferro (Wiley-Blackwell)

"Living 'Before God': A Kierkegaardian View of Spirituality," forthcoming in Psychology and Spiritual Formation (Christian Association for Psychological Studies Series), InterVarsity Press

"Divine Commands as the Basis of Moral Obligations," forthcoming in The Future of Creation Order II: Perspectives from Social Sciences, Humanities, and Normative Practices, ed. Govert Buijs and Annette Mosher (Dordrecht: Springer Publishing)

"The Single Individual Is Higher than the Universal: Kierkegaard", co-authored with Karl Aho (first-author), forthcoming in A Companion to Nineteenth Century Philosophy, edited by J. A. Shand (Blackwell Companions to Philosophy series)

"Faith: The Infinite Task of Passionate Belief," co-authored with Matthew Wilson (first author), forthcoming in the T. and T. Clark Companion to the Theology of Kierkegaard, ed. Aaron Edwards and David J. Gouwens

"An Argument from Design for Ordinary People," forthcoming in Two Dozen (or so) Arguments for God: The Plantinga Project, edited by Jerry L. Walls and Trent Dougherty, (Oxford: Oxford University Press)

"A Philosophical Response to David Brown's Divine Humanity: Kenosis and the Construction of a Christian Theology," in Christopher R. Brewer, ed., Christian Theology and the Transformation of Natural Religion: From Incarnation to Sacramentality – Essays for David Brown. (Leuven: Peeters, 2018), pp. 71-79.

"Are We Hard-Wired to Believe in God? Natural Signs for God, Evolution, and the Sensus Divinitatis," forthcoming in Andrew Torrance and Thomas McCall, eds., Knowing Creation: Perspectives from Theology, Philosophy, and Science (Grand Rapids, Michigan: Zondervan Academic)

"Neuroscience, Spiritual Formation, and Bodily Souls: A Critique of Christian Physicalism," (with Brandon Rickabaugh, first author) in Christian Physicalism? Philosophical Theological Criticisms, ed. R. Keith Loftin and Joshua R. Farris (Lanham, Maryland: Lexington Books, 2018), pp. 231-256.

"How Reformation Christians Can Be Catholic (Small 'c') Christians," Philosophia Christi (19, 2; 2017), pp. 415-427.

"The Testimony of the Spirit and Moral Knowledge," pp. 87-107 in The Testimony of the Spirit: New Essays, edited by R. Douglas Geivett and Paul K. Moser (New York: Oxford University Press, 2017).

"Kierkegaard's Relation to Catholic Theology and the Broader Christian World," Toronto Journal of Theology, (32, 1), Spring 2016, pp. 45-50.

"Kierkegaard, Natural Theology, and the Existence of God," in Kierkegaard and Christian Faith, ed. Paul Martens and C. Stephen Evans (Waco, Texas: Baylor University Press, 2016), pp. 25-38

"What Does It Mean to Be a Bodily Soul?" (with Brandon Rickabaugh, who is second author), Philosophia Christi, 17, 2 (2015), pp. 315-330.

"Can an Admirer of Silentio's Abraham Consistently Believe That Child Sacrifice Is Forbidden?" in Kierkegaard's Fear and Trembling: A Critical Guide, ed. Daniel Conway (Cambridge: Cambridge University Press, 2015), pp. 61-78.

"Moral Arguments for Theism and Divine Command Theories of Moral Obligation," in Christian Philosophy of Religion: Essays in Honor of Stephen Davis, ed. Colin Ruloff (University of Notre Dame Press: Notre Dame, Indiana, 2015), pp. 258-272.

Recent grants

Principal Investigator for USD$1,987,000 grant from the Templeton Religion Trust, awarded for 2018-21 to study "Accountability as a Relational Virtue"

Principal Investigator for USD$234,000 grant from the Templeton Religion Trust, awarded for 2017-18 to study "Accountability as a Relational Virtue"