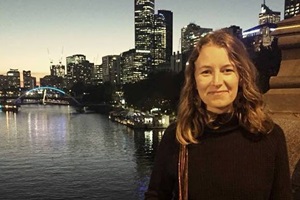 Dr Sarah Parkhouse
Biblical and Early Christian Studies
Sarah.Parkhouse@acu.edu.au
BA(Hons) (SOAS, London), MA (King's College London), PhD (Durham)
I joined ACU in 2017, following the completion of a doctorate in Early Christianity at Durham University. My thesis looked at the genre of early Christian 'dialogue gospels' and focused on the Gospel of Mary, examining the use of the genre as means to impart eschatological revelation. My PhD was part of the project "The Fourfold Gospel and its Rivals," funded by a grant from the UK Arts and Humanities Research Council.
At ACU, I work with the "Texts, Traditions, and Early Christian Identities" project, and am writing a monograph on early Christian ritual practices as reception of Jesus traditions. This is under contract with the Bloomsbury "Reception of Jesus in the First Three Centuries" series. My work aims to bring together New Testament texts with Patristic authors and non-canonical writings.
I have a BA in Study of Religions from SOAS (2011) and a MA in Biblical Studies from King's College London (2013).