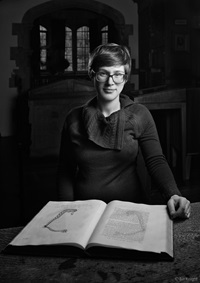 Dr Miranda Stanyon
Medieval and Early Modern Studies. Affiliate: Religion and Theology
BA (Hons), MA (Melb), PhD (London)

Miranda Stanyon is a lecturer in Comparative Literature at King's College, London, and joined the Institute for Religion and Critical Inquiry as a Research Fellow in 2017. Her work focuses on enlightenment and Romantic era literature in Britain and Germany. She is currently preparing a book on music and the literary culture of the sublime, showing music's role in forming and transforming this vital aesthetic category. She has published on emotions history, music and sound, and visual forms in literature.
---
Key publications
Book chapters

'"What Passion cannot Musick raise and quell!" The Pindaric Ode and the Musical Sublime in the History of Emotions.' In Understanding Emotions in the Medieval and Early Modern World, edited by Andrew Lynch and Michael Champion, 107–25. Turnhout: Brepols, 2015.

'Pervasive Imitation in Senfl's Ave Maria … virgo serena: Borrowing from Josquin in sixteenth-century Augsburg.' In Identity and Locality in Early European Music, 1028–1740, edited by Jason Stoessel, 151–173. Farnham: Ashgate, 2009.

Journal articles

'The Changes; or plus ça change? Newburgh Hamilton's Early Writings and the Politics of Handel's Libretti.' Journal of the Royal Musical Association 142, no. 2 (2017): 221–255.

'Sublime Rauschen: Enlightening Sound from Locke to Klopstock.' Modern Philology 111.4 (2017): 845–71.
'Serpentine Sighs: De Quincey's Suspiria de Profundis and the Serpentine Line.' Studies in Romanticism 53.1 (2014): 31–58.

'"Rastrierte Blätter, aber mit keiner Note beschrieben": the Musical Sublime and Aporias of Inscription in Hoffmann's Ritter Gluck.' German Quarterly 83.4 (2010): 412–430.