Dr Matthew S. Champion
Senior Research Fellow
Medieval and Early Modern Studies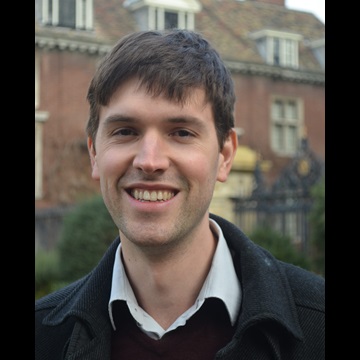 Areas of expertise: history; medieval and early modern studies; temporalities; history of the senses; sound studies; visual culture; history and theory
Email: matthew.champion@acu.edu.au
Location: ACU Melbourne Campus
After studying classics, history and music at the University of Melbourne, I moved to London in 2010 to write my doctorate in medieval history at Queen Mary, University of London. After a Junior Research Fellowship at St Catharine's College, Cambridge, I took up a Lectureship in Medieval History at Birkbeck, University of London in 2016. In 2020 I will return to Melbourne to take up a Senior Research Fellowship at the Institute for Religion and Critical Inquiry.
My current research focuses on how time was perceived and experienced from the fourteenth to the sixteenth century. I'm particularly interested in how liturgy, objects, images, and music shaped temporalities. My first book, The Fullness of Time: Temporalities of the Fifteenth-Century Low Countries was published in late 2017. I am currently preparing a second monograph on the sound cultures of time between 1300 and 1600, as well as an edition of fifteenth-century texts on calendar reform and biblical chronology with colleagues in Leuven and Oxford.
In addition to my work on time, I also work on the history of medieval religious reform and heresy, particularly the history of witchcraft and demonology, the history of medieval senses and emotions, and the history of sound, visual culture and liturgy.
---
Select publications
Book


The Fullness of Time: Temporalities of the Fifteenth-Century Low Countries. Chicago: University of Chicago Press, 2017.

Book Chapters


'Emotions, Time and Narrative: A Liturgical Frame', in Susan Broomhall and Andrew Lynch (eds), The Routledge History of Emotions in Europe 1100-1700. Abingdon & New York: Routledge, 2019, 30–42.
'Black and White: Dominican Reform and Heretical Inversion in the Fifteenth-Century Low Countries', in Cornelia Linde (ed.), Making and Breaking the Rules: Discussion, Implementation, and Consequences of Dominican Legislation. Oxford: Oxford University Press, 2018, 131–149.
'Emotion, Time and Music in Late-Medieval Cambrai', in Philippa Maddern and Joanne McEwan (eds), Performing Emotions in the Medieval and Early Modern World. Turnhout: Brepols, 2018, 3–26.
'Emotions and the Social Order of Time: Constructing History at Louvain's Carthusian House, 1486–1525', in Susan Broomhall (ed.), Gender and Emotions in Medieval and Early Modern Europe: Destroying Order, Structuring Disorder. Farnham: Ashgate, 2015, 89–108.
'The Presence of an Absence: Jews in Late-Medieval Louvain', in Julie Davies and Michael Pickering (eds), A World Enchanted: Magic and the Margins. Essays Presented in Honour of Charles Zika. Melbourne: MHJ Research Series, 2014, 37–67.

Journal Articles


'The History of Temporalities: An Introduction', Past & Present, 243 (2019): 247–254.
'A Fuller History of Temporalities', Past & Present, 243 (2019): 255–266.
'Senses at the Altar in Medieval Northern Europe', Questiones Medii Aevi Novae 22 (2017): 127–147.
'Symbolic Conflict and Ritual Agency at the Vauderie d'Arras', Cultural History 3.1 (2014): 1–26.
'Crushing the Canon: Nicolas Jacquier's Response to the Canon Episcopi in the Flagellum haereticorum fascinariorum', Magic, Witchcraft, Ritual 6.2 (2011): 183–211.
'Scourging the Temple of God: Towards an Understanding of Nicolas Jacquier's Flagellum haereticorum fascinariorum (1458)', Parergon 28.1 (2011): 1–24.
'The Crucifixion and the World in the Drogo Sacramentary', Journal of the Australian Early Medieval Association 3.1 (2007): 105–112.
Accolades and awards
2018 Royal Historical Society Gladstone Prize
2016 Sugden Fellow, Queen's College, University of Melbourne
2016 International Early Career Fellow, ARC Centre of Excellence for the History of Emotions
2015 Frances A. Yates Fellow, Warburg Institute, London
2013 Mellon Fellow, University of Warwick and Newberry Library, Chicago