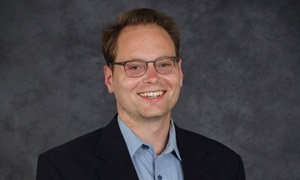 Dr M. David Litwa
Biblical and Early Christian Studies
david.litwa@acu.edu.au
MDiv. (Emory), ThM. (Duke), PhD (Virginia)

David Litwa is a scholar of ancient Mediterranean religions with a focus on the New Testament and early Christianity. He has taught courses at the University of Virginia (Religion and Classics), the College of William & Mary (Classics), and at Virginia Tech (Religion and Culture). He is a member of the Steering Committee of the Bible, Myth, and Myth Theory Group at the Society of Biblical Literature. His current research focuses on gnostic Christian movements and their reception of Paul.
---
Key publications
Books

Hermetica II: The Excerpts of Stobaeus, Papyrus Fragments, and Ancient Testimonies in a English Translation with Notes and Introductions (Cambridge: Cambridge University Press, 2018).

Desiring Divinity: Self-deification in Ancient Jewish and Christian Mythmaking (New York: Oxford University Press, 2016).

Refutation of All Heresies: Text, Translation, and Notes, Writings from the Greco-Roman World 40 (Atlanta: SBL Press, 2016).

Iesus Deus: The Early Christian Depiction of Jesus as a Mediterranean God (Minneapolis: Fortress, 2014).

Articles

'Paul the 'god' in Acts 28: A Comparison with Philoctetes,' Journal of Biblical Literature, fall 2017 forthcoming.

'"I Will Become Him": Homology and Deification in the Gospel of Thomas,' Journal of Biblical Literature 133:2 (2015): 427-47.

'The Deification of Moses in Philo of Alexandria,' Studia Philonica Annual 26 (2014): 1-27.

'The Wondrous Exchange: Irenaeus and Eastern Valentinians on the Soteriology of Interchange,' Journal of Early Christian Studies 22 (2014): 311-41.

'The God 'Human' and Human Gods: Models of Deification in Irenaeus and the Apocryphon of John,' Zeitschrift für Antikes Christentum 18 (2014): 70-94.

'Transformation through a Mirror: Moses in 2 Cor 3:18,' Journal for the Study of the New Testament 34 (2012): 286-97.

'Paul's Mosaic Ascent: An Interpretation of 2 Cor 12:7-9,' New Testament Studies 57 (2011): 238-57.