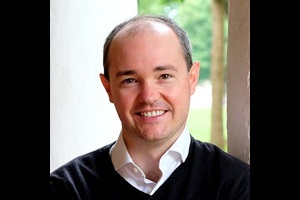 Dr Jonathan D. Teubner
Religion and Theology
PhD – University of Cambridge, Trinity College
Jonathan D. Teubner is Research Fellow in Theology in the Institute for Religion and Critical Inquiry. Teubner's work lies at the intersection of theology and politics, with a special focus on their joint manifestations in the history of continental Europe. He is also Associate Fellow at the Institute for Advanced Studies in Culture at the University of Virginia. In 2019-2020, Teubner will be an Alexander von Humboldt Fellow at the Universität Humboldt zu Berlin, where he will begin a project on the thought and influence of Adolf von Harnack in the study of religion and theology.
Previously, Teubner was the Fernand Braudel Postdoctoral Fellow in the Laboratoire d'excellence – Religions et Sociétés dans le Monde Méditerranéen at the Centre National de la Recherche Scientifique (UMR 8167) in Paris, France and served as Lecturer in Religious Studies and Associate Director of the Initiative on Religion, Politics and Conflict at the University of Virginia.
Teubner's publications have examined religious practices in the early medieval period; medieval political Augustinianism; critical theories of religion and violence, economics, and secularism; and the historiography of theology. His first book, Prayer after Augustine: A study in the development of the Latin tradition, was published by Oxford University Press in January 2018 and received the 2019 Manfred Lautenschlaeger Award for Theological Promise. He is currently working on his second book, tentatively titled Charity and Violence: Political Augustinianism in Conflict.
See also http://jonathanteubner.com/
---
Key publications
Monograph
Prayer after Augustine: A Study in the Development of the Latin Tradition (Oxford: OUP, 2018).
Edited Volume
Associate Editor, with Sarah Coakley and Richard Cross, Oxford Handbook of the Reception of Christian Theology (Oxford University Press, Forthcoming 2019).
Articles
'The Failure of Affectus: Affectiones and constantiae in Augustine of Hippo', eds. Juanita Ruys, Michael Champion, Kirk Essary, Before Emotion: The Language of Feeling, 400-1800 (Routledge, forthcoming 2018).
'Jesus and the ascent of Wissenschaft: A Reassessment of Adolf von Harnack's wissenschaftliche Theologie', eds. Kevin M. Vander Schel and Michael P. DeJonge, Theology, History and the Modern University (OUP, forthcoming 2019).
'The making of the Western tradition 430-1000', eds. Sarah Coakley, Richard Cross, Jonathan D. Teubner, Oxford Handbook of the Reception of Christian Theology (OUP, forthcoming 2019).
'Prayer after Augustine', eds. Ashley Cocksworth and John C. McDowell, T&T Clark Companion to Christian Prayer (T&T Clark, forthcoming 2019).
Scholarly Reviews
Review of Sebastian Kim, Theology in the Public Sphere (London: SCM, 2011) for Theology, vol. 115, n. 5 (2012).
Review of David Vincent Meconi, The One Christ: St. Augustine's Theology of Deification (Washington, DC: The Catholic University of America Press, 2013) for Reviews in Religion and Theology 21:2 (March 2014).
Review of John Peter Kenney, Contemplation and Classical Christianity: A Study in Augustine, Oxford Early Christian Studies (Oxford: OUP, 2013) for Reviews in Religion and Theology 22:2 (March 2015).
Review of Adolf von Harnack, ed. Johann Anselm Steiger with Thomas Illg, Einleitung in das Neue Testament. Berliner Vorlesung im Wintersemester 1899/1900. Eine Nachschrift von Carl Richard Schenkel (Stuttgart: Frommann Holzboog, 2015) for The Journal of Ecclesiastical History (April 2017).
Review of Peter Iver Kaufman, Augustine's Leaders (Eugene, OR: Cascade Books, 2017) for Augustinian Studies (Forthcoming, Fall 2018).
Review of Wolf-Dieter Hauschild and Volker Henning Drecoll, Lehrbuch der Kirchen- und Dogmengeschichte: Alte Kirche und Mittelalter. Revised Edition (Munich, Germany: Gütersloher Verlagshaus, 2016) for Theologische Literaturzeitung (Forthcoming).
'Is there theology in this book?', review essay of contemporary research into Augustine's Confessions for Reviews in Religion and Theology (Autumn 2017). Books reviewed: William E. Mann, ed. Augustine's Confessions: Philosophy in Autobiography (Oxford, 2014); David van Dusen, The Space of Time: A Sensualist Interpretation of Time in Augustine, Confessions X to XII (Brill, 2014); and Paul Rigby, The Theology of Augustine's Confessions (Cambridge, 2015).
Essays
'Theology and the university: a lover's quarrel' for Marginalia | Los Angeles Review of Books (26 May 2015). Review of Johannes Zachhuber, Theology as Science in Nineteenth-Century Germany: From F.C. Baur to Ernst Troeltsch (Oxford: OUP, 2013).
'Belonging to Europe' for Hedgehog Review (Spring 2018).
'Confessing Secularism', review of Todd Weir, Secularism and Religion in Nineteenth-Century Germany (Cambridge: CUP, 2014) for The Hedgehog Review (Summer 2018).
'Return of the Repressed' for Hedgehog Review (Spring 2019).
'Romanticizing Nationalism', review of Yoram Hazony, The Virtue of Nationalism (New York: Basic Books, 2018) for Hedgehog Review (Summer 2019).