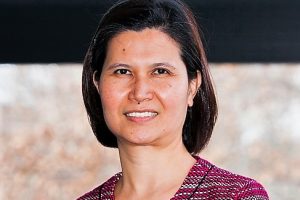 Dr Gemma Cruz
Religion and Theology
gemma.cruz@acu.edu.au
BSc, MA, PhD

Gemma Cruz is a former Fellow at the Center for World Catholicism and Intercultural Theology at DePaul University in Chicago, USA. Her main area of research is migration theologies. She also does research in missiology, liberationist theologies, Asian theologies, and theologies on women and gender issues.

Gemma's research projects include "Faith on the Move: Christianity and the Intercultural Church," (ACURF) "Asian Catholicism and Globalization" (ACU-IRPS and Georgetown's Berkley Center for Religion, Peace, and World Affairs), and "Christian Mission and Multicultural Relations" (Australian Theology Research Foundation, Inc).

Gemma is also the Coordinator of the research project "Mission and Evangelisation in the Context of Migration: Asian Perspectives" which is funded by the Centro Internazionale di Animazione Missionaria (CIAM), a centre in the Vatican. Other upcoming research projects include "Women and Mission: The Feminine Genius" for the Oxford Handbook of Mission Studies and "Contemporary Theologies of Migration" for the book Christianity and the Law of Migration, which will be published by Cambridge University Press.
---
Key publications
Books

Toward a Theology of Migration: Social Justice and Religious Experience (New York: Palgrave Macmillan, 2014).

An Intercultural Theology of Migration: Pilgrims in the Wilderness (Boston/Leiden: Brill Academic Publishers, 2010).
Book Chapters
"Brothers and Sisters Across Borders: Theological Perspectives on Catholic Transnationalism," in Migration, Transnationalism and Catholicism, eds. Dominic Pasura and Marta Bivand Erdal (London: Palgrave Macmillan, 2016), 23-50.
"Christianity and the Cause of Women in Asia," in The Oxford Handbook on Christianity in Asia, eds. Felix Wilfred et. al. (New York: Oxford University Press, 2014): 302-314.

"A New Way of Being Christian: The Contribution of Migrants to the Church," in Theology, Migration and World Christianity, eds. Peter Phan and Elaine Padilla (New York, NY: Palgrave Macmillan, 2013): 95-120.

"Weapons of the Weak: Cultural Forms of Resistance and their Implications to Missionary Theology and Practice," in Mission and Culture: The Louis J. Luzbetak Lectures, ed. Stephen Bevans (New York: Orbis Books, 2012): 249-274.

"God Before Us, God Among Us: Interreligious Dialogue from an Intercultural Feminist Perspective" in Schilebeeckx and Contemporary Theology, eds. Lieven Boeve, Frederiek Depoortere, and Stephan Van Erp (London: T & T Clark, 2010): 85-97.

Journal Articles

"Christian Mission and Ministry in the Context of Contemporary Migration," International Journal of Practical Theology Vol. 20, No. 1 (June 2016): 242-260.

"Tradition in Liberation: Women, The Transnational Family, and Caritas in Veritate," Feminist Theology Vol. 24, No. 1 (2015): 79-92.

"Review Essay: Migration as Locus Theologicus" Colloquium: The Australian and New Zealand Theological Review Vol. 46, No. 1 (May 2014): 87-100.

"Toward an Ethic of Risk: Catholic Social Teaching and Immigration Reform" Studies in Christian Ethics Vol. 24, Issue 3 (August 2011): 294-310.

"Between Identity and Security: Theological Implications of Migration in the Context of Globalization," Theological Studies 69 (2008): 357-375.