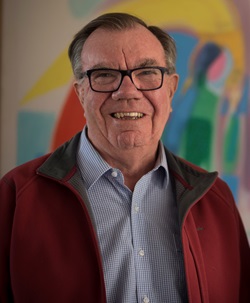 Reverend Professor Denis Edwards
Religion and Theology
MA (Fordham), STD (The Catholic University of America)

Denis Edwards is a Professorial Fellow in Theology. Located on ACU's Adelaide campus, he is a priest of the Archdiocese of Adelaide. His teaching is in the areas of God the Trinity, Christology, Ecclesiology and the Theology of Creation. He is a Fellow of the International Society for Science and Religion, and a member of the International Methodist-Roman Catholic Commission and of the national Australian Anglican-Roman Catholic Commission. Recent research has been has been in the areas of Christology, Pneumatology, Trinitarian theology, the dialogue between science and theology, and ecological theology. Research interests include the theology of Karl Rahner and the work of key figures from the theological tradition including Irenaeus, Athanasius, Bonaventure and Aquinas.
---
Key publications
Books

Christian Understandings of Creation: The Historical Trajectory. Minneapolis MN: Fortress Press, 2017.

The Natural World and God: Theological Explorations. Adelaide, ATF Theology, 2017.

Partaking of God: Trinity, Evolution and Ecology. Collegeville, Minnesota: Liturgical Press, 2014.

How God Acts: Creation, Redemption and Special Divine Action. Minneapolis MN: Fortress Press, 2010.

Book chapter
'Where on Earth is God? Exploring an Ecological Theology of the Trinity in the Tradition of Athanasius'. In Christian Faith and the Earth: Current Paths and Emerging Horizons in Ecotheology, edited by E.-M. Conradie, S. Bergmann, C. Deane-Drummond, and D. Edwards, 11-30. London, Bloomsbury, 2014.

Journal articles
'Sublime Communion: The Theology of the Natural World in Laudato Si'', Theological Studies 77:2 (2016): 377-391.

'Toward a Theology of Divine Action: William R. Stoeger, S.J., on the Laws of Nature', Theological Studies 76.3 (2015): 485-502.