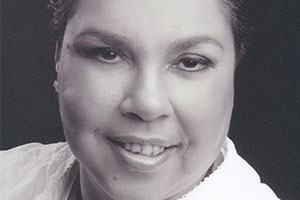 Theresa Ardler
Research Indigenous Liaison Officer
MRE, LLB, BEd
Program: Indigenous Thriving
Theresa Ardler, currently working in the capacity of Research Indigenous Liaison Officer at the Institute for Positive Psychology & Education.
Theresa is a Gweagal Aboriginal woman of the Eora region, Sydney her mother's country.
Theresa's working life has been in education. She has worked across all educational systems in Australia, from the Catholic Education Office, Sydney as Adviser: Aboriginal Education K-12; St. Andrew's Cathedral School, Sydney as Head of Aboriginal Perspectives K-12; Ballarat Grammar School, Ballarat as Aboriginal Educational Consultant K-12; North Nowra Public School as a classroom teacher; Catholic Education Office, Canberra Goulburn Archdiocese, as the Aboriginal Education Officer K-12 and Trinity Grammar School, Sydney as Educational Consultant K-12.
Theresa's vision is to work towards educating school and university communities, about the richness of Aboriginal Culture and Spirituality within Australian society.
As the future of Aboriginal education unfolds Theresa seeks opportunities to work creatively and innovatively in researching cultural, school and university environments that can produce genuine and meaningful cultural dialogue.
In November 2016 Theresa was awarded "The Alan Laughlin Perpetual Award, for an educator who has made an outstanding contribution to quality leadership, and to improving the quality of teaching in schools." Australian College of Educators.
In September 2017 Theresa was awarded "The 'New Indigenous Voice' in Educational Leadership". This national scholarship recognises impressive new Indigenous voices in educational leadership. Australian Council for Educational Leaders.
In November 2017 Theresa was awarded, NSW Branch of the Australian College of Educators – "World Teachers' Day 2017: Certificate of Recognition for outstanding contribution to the teaching profession". Australian College of Educators.
In 2018 Theresa currently sits on the Australian Editorial Committee for developing Educational Journals, "The Australian Educational Leader". This national committee consists of ten educational leaders outstanding in their fields of expertise.
Australian Council of Educational Leaders
Theresa holds a Master of Religious Education and a Bachelor of Education from the Australian Catholic University.
A Bachelor of Laws (LLB) from the Australian National University and a Diploma in Child Science (TAFE).
In July 2019 she will pursue her Research Doctorate with the Australian Catholic University (part-time), titled "Aboriginal Spirituality: Connecting Sea and Country" aligned with her bloodlines along the east coast of Australia. Then in 2020, she will start her doctorate full-time.
Email: Theresa.Ardler@acu.edu.au
Projects:
Parent-Reading Project
Well-Being App Project
Wonnarua Project
Publications
"Participation is not enough" – Towards Indigenous-led codesign – IT Australian Catholic University
'Walawaani Njindiwan' to Cullunghutti Aboriginal Child and Family Centre – The Australian Educational Leader
"Aboriginal Cultural Immersion"- Catholic Education, Archdiocese of Canberra & Goulburn