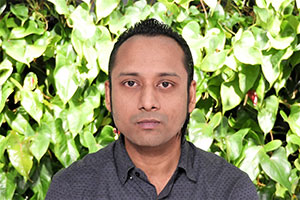 Dr Joy Talukdar
Research Executive Officer
PhD
Dr. Joy Talukdar, currently working in the capacity of Research Executive Officer at the Institute, brings on board an extensive research project management and research experience. His key research interests in the fields of teaching and teacher education and higher and international education has seen him complete 14 research projects to date that includes four internal research grants.
His Doctoral research in the field of teacher education was awarded with a Dean's Commendation for Doctoral Research Thesis Excellence, for a thesis that explored the knowledge and attitude attributes of pre-service teachers in South Australia towards sexually transmitted infections. His academic merits are further attested in his winning Gold Medals for Academic Excellence for his Master's and Bachelor's degrees in Environmental Science (2003) and Physiology (2001), respectively. He was also nominated for the President of India Medal for excellence in academics in 2001.
Before moving base to Australia in 2009, he served as a senior secondary environmental science teacher for three years. His sincere disposition to work yet commitment to play gained him tremendous popularity in this role and he continues the tradition in the land of 'The Green and the Gold'.
Research interests
Assessment in teacher education
Standards, quality and evidence in teacher education
Teacher education: initial and continuing
Teacher pedagogical practice
Teacher preparation
Teaching and teacher quality
Quality assurance in higher education
Quality assurance in international education
Email: Joy.Talukdar@acu.edu.au