Dr Sarah Bendall
Research Fellow - Gender and Women's History Research Centre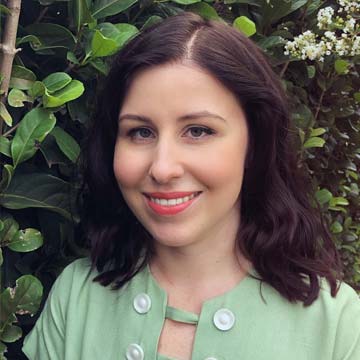 Areas of expertise: women and gender; material culture and dress; histories of trade and consumption; artisans, guilds and production; experimental history; early modern ecologies.
ORCID ID: 0000-0002-6078-4244
Phone: +61 03 9953 3213
Email: Sarah.Bendall@acu.edu.au
Location: ACU Melbourne Campus
Sarah A Bendall is a Research Fellow at the Gender and Women's History Research Centre in the Institute for Humanities and Social Sciences. She is a material culture historian whose work specialises in the gendered and embodied experiences of dress, particularly those of women, as well as the roles of gender in the production, trade and consumption of global commodities and fashionable consumer goods between 1500-1800.
She is the author of several journal articles on gender and early modern dress, on early modern women's garment production and on experimental history approaches. Her first monograph entitled Shaping Femininity: Foundation Garments, the Body, and Women in Early Modern England is forthcoming with Bloomsbury (2021).
Her current research offers critical reassessment of the global early modern whaling trade by focusing on the fashionable goods that it produced and how gendered assumptions mediated the demand for and perceived value of these consumer goods, as well as historical scholarship on this trade. She is also developing projects on women and the garment-making trades in seventeenth-century England and experimental history and embodiment.
---
Select publications
Books
Sarah A Bendall, Shaping Femininity: Foundation Garments, the Body, and Women in Early Modern England (forthcoming with Bloomsbury, 2021)
Journal Articles
Sarah A Bendall, 'Adorning Masculinities? The Commissioning and Wearing of Hat Badges during the Habsburg-Valois Italian Wars', Sixteenth Century Journal (forthcoming)
Sarah A. Bendall, 'The case of the "french vardinggale": A Methodological Approach to Reconstructing and Understanding Ephemeral Garments', in Fashion Theory, Special Issue on 'The Making Turn', edited by Peter McNeil and Melissa Bellanta, 23, 3 (2019): 363-399. DOI: 10.1080/1362704X.2019.1603862.
Sarah A. Bendall, '"Take Measure of your Wide and Flaunting Garments": The Farthingale, Gender and the Consumption of Space in Elizabethan and Jacobean England', Renaissance Studies, vol. 33, 5 (2019): 712-737. DOI: 10.1111/rest.12537.
Sarah Anne Bendall, 'To Write a Distick upon It: Busks and the Language of Courtship and Sexual Desire in Sixteenth- and Seventeenth-Century England', Gender & History, 26, 2, (2014): 199–222. DOI: 10.1111/1468-0424.12066.
Projects
From Whale to Wardrobe: The Whaling Trade, Gender and Fashionable Consumer Goods in Early Modern Europe. This project examines one of the key turning points in fashion, trade and industry: the widespread use of whale products in clothing and decorative arts between 1500-1800.
Women, Tailoring and the Garment-making Trades during the Seventeenth Century. This project seeks to understand the role of women in the production of clothing in England during the seventeenth century.
Accolades and awards
Publication Grant awarded by the Pasold Research Fund (2020)
McKenzie Postdoctoral Research Fellowship, The University of Melbourne (2020)
University of Sydney, Dean's Unit of Study Commendation (2020)
H2020 Marie Curie Sklodowska Curie Actions-IF-2018 Seal of Excellence (2019)
Society for the Study of Early Modern Women (SSEMW) Margaret Hannay Visiting Fellow at the Folger Shakespeare Library, Washington D.C. (2018)
David Walker Memorial Visiting Fellow in Early Modern History at The Bodleian Libraries, University of Oxford, UK. (2018)
Research Project Grant awarded by the Pasold Research Fund (2018)
Public engagement