Professor Robert Audi
Professorial Fellow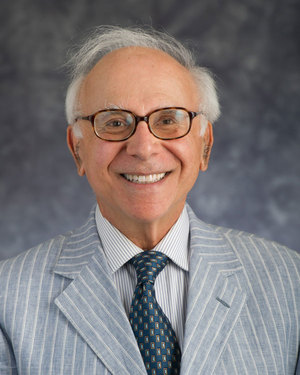 Areas of expertise: moral and political philosophy; epistemology; philosophy of mind and action; philosophy of religion
Email: robert.audi.1@nd.edu
Professor Audi is John A. O'Brien Professor of Philosophy at the University of Notre Dame and Professorial Fellow at the Australian Catholic University. His work has focused on moral philosophy, especially ethical theory, moral psychology, and value theory, and on epistemology, in particular perception, memory, and testimony and their relationship to rationality, justification, and knowledge. He also works in philosophy of mind and action, and philosophy of religion.
Professor Audi has served as president of the American Philosophical Association, the Society of Christian Philosophers, and is general editor of
The Cambridge Dictionary of Philosophy
(1995,1999, and 2015). In 2018 he was elected to fellow in the American Academy of Arts and Sciences.
---
Select publications
Seeing, Knowing, and Doing: A Perceptualist Account. Oxford University Press, forthcoming in early 2020.
'Doxasticism: Belief and the Information-Responsiveness of Mind', Episteme 2019; doi: 10.1017/epi.218.53, 1-21.
Means, Ends, and Persons: The Meaning and Psychological Dimensions of Kant's Humanity Formula. Oxford University Press, 2016.
Rational Belief.Oxford University Press, 2015.
Moral Perception. Princeton University Press, 2013.
'Rationality and Religious Commitment: An Inquiry Into Faith and Reason', Heythrop Journal 54.2 (2013): 312-315.
'Testimony as a Social Foundation of Knowledge', Philosophy and Phenomenological Research87.3 (2013): 507–531.
'Virtue Ethics as a Resource in Business', Business Ethics Quarterly 22.2 (2012): 273-291.
Democratic Authority and the Separation of Church and State. Oxford University Press, 2011.
Rationality and Religious Commitment. Oxford University Press, 2011.
Epistemology: A Contemporary Introduction to the Theory of Knowledge. 3rd ed. Routledge, 2010.
Business Ethics and Ethical Business. Oxford University Press, 2009.
Moral Value and Human Diversity. Oxford University Press, 2007.
Practical Reasoning and Ethical Decision. Routledge, 2006.
The Good in the Right: A Theory of Intuition and Intrinsic Value. Princeton University Press, 2004.
Accolades and awards
American Academy of Arts and Sciences, elected to fellowship, April, 2018
John Dewey Lecturer, APA, Central Division Meeting, February 2018.
Muenster Lecturer, selected by the Muenster Philosophy Department to give the Muenster Lecture for 2016, to reply to a set of eight critical papers on my work at the conference that followed, and to publish the lecture and my replies to the critical studies in a volume (with Springer) containing the full set of papers.
Philip L. Quinn Prize, American Philosophical Association, 2016 (for service to philosophy and philosophers)
Institute for Advanced Study, University of Notre Dame, Fellowship for fall term, 2013.
Jagiellonian University lecture series, on Naturalism, Normativity, and the Explanation of Human Actions, Krakow, Poland, June 2012 (three public lectures)
Soochow Lectures, Soochow University, Taiwan, March 2011 (annual series at Soochow University in Taipei, which is under contract with Princeton University Press for expected publication of the revised lectures as books); topic: Moral Perception and Ethical Objectivity; publication (under the title 'Moral Perception', Princeton, 2013; listed above).
Brady Distinguished Lectureship, Northwestern University, 2009-10; public lectures given in May 2010 and leading to publication of Democratic Authority and the Separation of Church and State (listed in books category).
Thomas J. Lynch Lectureship, Wake Forest University, winter 2010; public lectures and interdisciplinary presentations for Philosophy, Bioethics, Business, Law, and Theology
Scots Centennial Fellow, July 2010 (lectureship with responsibility for giving papers in several Scottish universities)
Brackenridge Visiting Professorship (short-term visit to contribute to a research conference centered on "The Ethical and Epistemic Dimensions of Robert Audi's Intuitionism") University of Texas, San Antonio, February 2009
Editorial roles
Editor-in-chief, The Cambridge Dictionary of Philosophy, 1989—
Select editorial boards:


American Philosophical Quarterly, 1983-1989, 1997-2000, 2003—
Business Ethics Quarterly, 2005—
Episteme, 2011—
Journal of the American Philosophical Association, 2014—
Journal of Comparative Philosophy, 2008—

Journal of Ethics, 1995—
Journal of Philosophical Research, 1993—
Midwest Studies in Philosophy, 1977–
Pacific Philosophical Quarterly, 1979–
Philosophy and Phenomenological Research, 1992—
Ratio, 2012—