Master of Education
Course information for - 2024 entry
Offered at 1 locations
Duration

120 cp: 1.5 years full-time or equivalent part-time

160 cp: 2 years full-time or equivalent part-time

CRICOS Code

084792A, 099127M

IELTS

7.0 overall score (with a minimum score of 6.0 in all tests)

Fees (first year)*

$25568

Start dates

February 2024, July 2024, February 2025, July 2025, February 2026, July 2026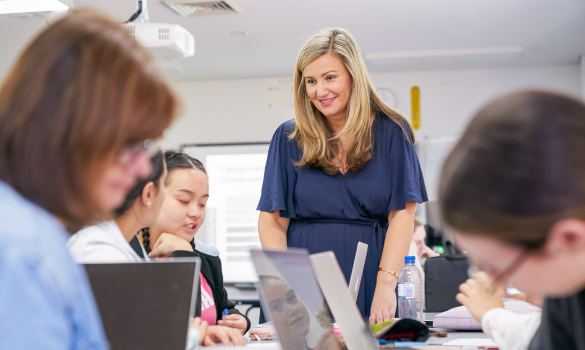 The Master of Education is for educators and sector professionals who wish to pursue further studies and develop advanced knowledge and expertise in educational practice.
Be part of a vibrant academic, research-led community and deepen your understanding of the latest and most effective pedagogical practices. Learn the latest evidence-based approaches to learning and augment your craft in professional application, rigorous innovation, focused leadership, and research in this area.
Enhance your area of specialisation by choosing from one of eight streams, including: Inclusive Practice; Literacy: Primary and Secondary; Literacy: Teaching Foundational Reading Skills; Literacy: Teaching Fluency, Comprehension and Writing; Research Methods; School Psychology; STEM and Wellbeing.
By embracing life-long learning, teachers and aspiring school leaders will be equipped with advanced practitioner knowledge, skills, and abilities along with a discrete pathway to doctoral research. Students wanting to progress to doctoral study on completion of this course must complete the sequence of Advanced Research methods within their studies.
This advanced education course asks you to reimagine the purposes of education and improve the educational setting you work in. If you are passionate about continual learning and want to advance your career, but do not hold a teaching qualification, you can complete an additional sequence of units to meet this degree's requirements.
Top 50 Globally in education and fourth in Australia.
ACU strongly encourages students to be fully vaccinated. With our industry and community placement partners requiring vaccination, and with public health orders regularly changing - students can avoid interruption to their studies, placement and graduation requirements by becoming fully vaccinated.
Careers
Our graduates have pursued careers as:
policy advisors
school leaders
curriculum advisors
consultants
Course details
AQF framework
Masters (Coursework) - AQF Level 9
Exit Points
A student who has completed 40 cp from the Schedule of Unit Offerings of the Graduate Certificate in Education may exit with that award.
A student who has completed 80 cp from the Schedule of Unit Offerings of the Graduate Diploma in Education may exit with that award.
Additional course information
Participants with a teaching qualification complete the 120 credit point course. Participants without a teaching qualification complete the 160 credit point course from the Schedule of Unit Offerings outlined in the course handbook on the ACU website.
Entry requirements
View transparency admission information
International applicants
If you're an international applicant you'll need the equivalent of an Australian bachelor's degree.
You'll also need to comply with the Admission to Coursework Programs Policy, including the English Language Proficiency requirements.
English language requirements
IELTS overall score of 7.0. Individual score of 6.0 in all tests.
Pathways
Further study
Graduates of this course may be eligible for entry into further postgraduate coursework degree programs and/or research higher degree, doctoral programs.
Fees
Course costs
Unit fee: $3196
Average first year fee: $25568
Estimate total cost: $38352
The Tuition fees quoted above are for commencing students in the current year who undertake a normal full-time load. The Unit Fee is based on a 10cp unit. Fees are reviewed annually.
Tuition fees for continuing students may increase by up to 3 percent each year for the minimum duration of the course as provided on your electronic Confirmation of Enrolment (eCOE). Students who continue to study beyond the minimum duration will have the relevant annual commencing rate applied to their fees for subsequent study periods.
Payment options
You should be able to concentrate on getting good marks instead of worrying about how you'll pay your fees. We have a number of options that can help you ease the financial burden, including government assistance, scholarships and income support.
Scholarships
You could be eligible for one of the hundreds of scholarships we award each year to help students from across the university with the cost of studying, accommodation or overseas study opportunities. Some of our scholarships are awarded on the basis of merit, but these aren't just for the academically gifted; ACU also recognises excellence in community engagement and leadership. We also offer a range of scholarships for those who may be struggling financially or who have faced other barriers to accessing education.
How to apply
Deferment
Yes. See Defer your offer.
Students with a Student Visa will need to complete the program in minimum duration, study at least one subject on-campus each semester and must not undertake more than 33% of the program online.
Staff Profile
Professor Amanda Telford
Course Coordinator, National School of Education
Professor Amanda Telford is a teacher and researcher in health, wellbeing and educational leadership within the National School of Education. She is currently the National Course Coordinator of the Master of Education and has over two decades experience in senior learning and teaching leadership roles as a former secondary teacher and academic across four universities including: Associate Dean (Education) Deputy Head of School (Learning & Teaching), Interim Associate Dean (Partnerships) and Director/course coordinator across three universities. These senior academic leadership positions have enabled her to develop a deep understanding of policy, processes and regulatory requirements of universities and governing bodies. Prof. Telford is a multi- award-winning teacher, researcher and author, she has co-authored over 100 learning and teaching publications including over 50 peer-reviewed journal articles and over 45 textbooks and book chapters used nationally and internationally at secondary and tertiary level. She has collaborated on more than 40 research projects with a learning and teaching, physical activity, physical education and/or wellbeing focus. The CLASS instrument she developed as part of her PhD to assess children's physical activity and sedentary behaviour is used in over 40 countries. Prof. Telford was a Chief Investigator on the ARC funded 'Girls Get Going' study and more recently the NHMRC funded 'TransformUs' project designed to revolutionize the classroom through movement which has already reached over 500 schools.
Dr Paul Kidson
Head of Discipline Postgraduate Education, National School of Education
Dr Paul Kidson is Senior Lecturer in Educational Leadership and the Head of Postgraduate Studies in the National School of Education. He has extensive school leadership and governance experience, including 11 years as a school principal, which informs the highly practical orientation of his academic research. In addition to his academic research and leadership, he is a member of Australian Council for Educational Leaders (NSW) Executive Committee, a Fellow of the Institute for Managers and Leaders, and a Graduate of the Australian Institute for Company Directors. His research adopts holistic and interdisciplinary approaches, drawing on a range of academic disciplines and insights. Through this, he explores how school leaders work effectively within, and critically transform, their complex professional lives. This encompasses broader systems and policies which govern the work of educational leaders, as well as how school leaders develop and sustain their personal experience of leadership. He is part of a large-scale research projects on school leadership, and one of the lead researchers on Australia's largest and longest running principal well-being research project, the Australian Principal Occupational Health and Well-being Survey.
Shanghai Ranking, Global Ranking of Academic Subjects 2022