Graduate Certificate in Health Professional Education
Course information for - 2023 entry
Offered at 1 locations
Study mode

Online

Duration

0.5 year full-time or equivalent part-time

Fees (first year)*

$10671 Fee-paying

Start dates

Semester 1 intake: Not available

Midyear (Semester 2) intake: Beginning July 2023

Applications open April 2023
The ACU Graduate Certificate in Health Professional Education is to empower students to become capable and responsive educators of health professionals. Students will be supported in the learning of foundational theories, models and perspectives of learning and teaching with an emphasis on learning and practice development in workplaces. Students will explore the importance of constructive alignment in curriculum development, assessment strategies and evaluation of programs. The focus of this course will be to advance evidence-based learning and teaching activities and programs, coordinate collaboration among the health professions, and provide high quality learning experiences with the overall intention of enhancing safe and quality patient care. This course is designed for health care professionals seeking a pathway into health professional education. On successful completion of the Graduate Certificate in Health Professional Education, graduates should be able to: describe learning and teaching perspectives, knowledge and skills required for health educators to provide quality learning and teaching opportunities that meets the needs of contemporary health professional education; apply specialist best-practice knowledge and skills to develop, implement, evaluate and communicate educational strategies that address, respond to, and align with educational priorities, approaches and technologies within the workplace; integrate the principles and perspectives of contemporary theories of workplace learning, to develop and implement culturally safe and inclusive curriculum design and assessment practices.
ACU strongly encourages students to be fully vaccinated. With our industry and community placement partners requiring vaccination, and with public health orders regularly changing - students can avoid interruption to their studies, placement and graduation requirements by becoming fully vaccinated.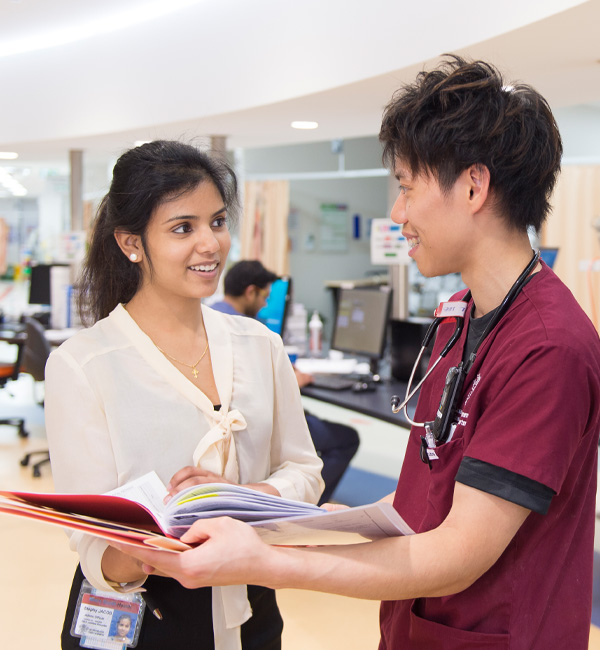 Careers
Our graduates have pursued careers in:
government or private health care education facilities
higher education
healthcare simulation education
health education promotion
Course details
Course structure
To complete the Graduate Certificate in Health Professional Education, a student must complete 40 credit points (cp).
Sample program map
| Year - Study period | Unit 1 | Unit 2 | Unit 3 | Unit 4 | Unit 5 |
| --- | --- | --- | --- | --- | --- |
| Year 1 - Semester 1 | HLSC604 Quality and Safety in Health Care | HLSC608 Theoretical Foundations of Health Professional Education | | | |
| Year 1 - Semester 2 | HLSC609 Facilitating Learning in Health Professional Settings | HLSC664 Curriculum Design, Assessment and Evaluation in Health Professional Education | | | |
This is a sample program only and units will vary depending on your campus and mode of study. Please refer to the handbook for the prerequisite units and the current listing.
AQF framework
Graduate Certificate - AQF Level 8
Additional course information
Students must have:
have completed either a Bachelor degree in a health discipline or equivalent; AND
have completed at least one year of clinical or work experience prior to admission. This will require a letter from their employer confirming their employment.
Entry requirements
An applicant must also comply with the Admission to Coursework Programs Policy.
To be eligible for admission to the Graduate Certificate in Health Professional Education, an applicant must:
have completed either a Bachelor degree in a health discipline or equivalent; AND
have completed at least one year of clinical or work experience prior to admission.
Disclaimer: The course entry requirements above are for 2023 Admission.
Pathways
Further study
Graduates may be eligible to apply for enrolment into the Graduate Diploma in Health Professional Education, Master of Health Professional Education, or other postgraduate courses offered at ACU.
Fees
Course costs
Average first year fee*
$10671 Fee-paying
All costs are calculated using current rates and are based on a full-time study load of 40 credit points (normally 4 units) per semester.
A student's annual fee may vary in accordance with:
the number of units studied per semester;
the choice of major or specialisation; and
elective units.
The University reviews fees annually.
Payment options
You should be able to concentrate on getting good marks instead of worrying about how you'll pay your fees. We have a number of options that can help you ease the financial burden, including government assistance, scholarships and income support.
Scholarships
You could be eligible for one of the hundreds of scholarships we award each year to help students from across the university with the cost of studying, accommodation or overseas study opportunities. Some of our scholarships are awarded on the basis of merit, but these aren't just for the academically gifted; ACU also recognises excellence in community engagement and leadership. We also offer a range of scholarships for those who may be struggling financially or who have faced other barriers to accessing education.
Staff Profile
Dr Flora He
Course Coordinator, Master of Clinical Education, Master of Health Professional Education. Lecturer, School of Nursing, Midwifery and Paramedicine ACT/NSW
Dr Flora He is a lecturer and the course coordinator of Master of Health Professional Education of the School of Nursing, Midwifery and Paramedicine at Australian Catholic University (ACU). Her qualifications include a Bachelor of Nursing and a Master of Clinical Education from ACU, a Graduate Certificate in University Teaching and Learning from Charles Darwin University (CDU) and a Doctor of Philosophy from Australian National University (ANU).
Dr He has been teaching undergraduate (UG) and postgraduate (PG) students full time since 2012. Her UG teaching involves Primary Health Care, Fundamentals of Nursing, Psychosocial Nursing, Medical-Surgical Nursing, and Palliative and Aged-care. The PG units Dr He has taught include Theoretical Foundations of Clinical Education and Curriculum Development and Instructional Design.
Dr He has a strong interest in research. Her PhD studies used a mixed-methods approach to investigate factors contributing to acculturative stress among international nursing students in Australia. Dr He's four publications have focused on issues associated with university student psychological well-being. She has also participated in supervising higher degree by research students at ACU and CDU.