Professor Hayden Ramsay
Deputy Vice-Chancellor, Ethics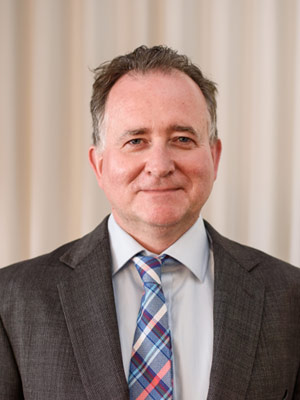 The Deputy Vice-Chancellor Ethics leads the Ethics Portfolio, which has responsibility for developing and leading ACU's ethical capacity, including the Catholic intellectual context, and for raising ACU's ethics impact in the University, community and internationally.
The Deputy Vice-Chancellor Ethics works to provide increased visibility to all aspects of ethics, which is an area of strategic importance to the University.
Professor Ramsay began his role at ACU in 2017 as Pro Vice-Chancellor, Assisting the Vice-Chancellor and President. He accepted the position of Deputy Vice-Chancellor Coordination in March 2019, which evolved into the Ethics Portfolio in October 2021. Prior to his appointment at ACU, Professor Ramsay served as the Senior Deputy Vice-Chancellor and Professor of Philosophy and Ethics at The University of Notre Dame Australia. He has taught philosophy at the University of Edinburgh, Stirling University in Scotland, the University of Melbourne, La Trobe University, the Catholic Theological College and the John Paul II Institute for Marriage and Family. He has also held teaching roles at the Catholic Institute of Sydney, Seminary of the Good Shepherd Sydney and Corpus Christi Seminary Melbourne. He is a committee member of the Catholic Institute of Sydney Senate and the Sydney Catholic Schools Board. He holds a PhD in philosophy from The University of Edinburgh (1991) and a Masters in Mental Philosophy also from the University of Edinburgh (1986). Professor Ramsay has published several books and many articles in philosophy, mainly in religion and ethics.
---
The Ethics Portfolio is comprised of the following directorates:
The Office of the Deputy Vice-Chancellor (Ethics)
The PM Glynn Institute
The Institute of Child Protection Studies
The Plunkett Centre for Ethics
The Queensland Bioethics Centre
The First Peoples Directorate
The Libraries Directorate
---
Contacts
Professor Hayden Ramsay
Deputy Vice-Chancellor, Ethics
Vice Chancellery
40 Edward Street, North Sydney, NSW 2060
Email: Hayden.Ramsay@acu.edu.au
Phone: +61 2 9465 9279
Patrick Langrell
Director, Portfolio, Strategy and Operations
Email: Patrick.Langrell@acu.edu.au
Phone: +61 2 9739 2577
Adeline Kassis
Executive and Project Officer
Email: Adeline.Kassis@acu.edu.au
Phone: +61 2 9739 2985