Professor Hayden Ramsay
Deputy Vice-Chancellor, Coordination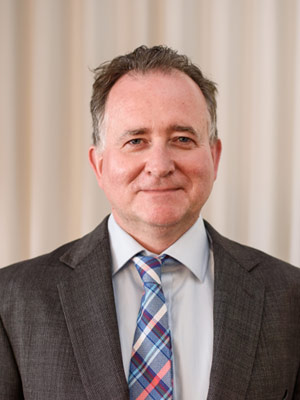 The Deputy Vice-Chancellor, Coordination, is a member of the Senior Executive Group at Australian Catholic University. In this role, Professor Ramsay leads the Coordination Portfolio, established to help the University maintain institutional unity and campus diversity. It will play a key role in establishing a national approach to Catholicity by coordinating Catholic intellectual life and cultural dialogue with the secular world.
The Deputy Vice-Chancellor,Coordination will also be responsible for overseeing changes to organisational structures to achieve organisation direction in line with the Vice-Chancellor's priorities.
Professor Ramsay began his role at ACU in 2017 as Pro Vice-Chancellor, Assisting the Vice-Chancellor and President. He accepted the position of Deputy Vice-Chancellor, Coordination in March 2019. Prior to his appointment at ACU, Professor Ramsay served as the Senior Deputy Vice-Chancellor and Professor of Philosophy and Ethics at The University of Notre Dame Australia. He has taught philosophy at the University of Edinburgh, Stirling University in Scotland, the University of Melbourne, La Trobe University, the Catholic Theological College and the John Paul II Institute for Marriage and Family. He has also held teaching roles at the Catholic Institute of Sydney and the Good Shepherd Seminary. He is a committee member of the Catholic Institute of Sydney Senate and the Sydney Catholic Schools Board. He holds a PhD in philosophy from The University of Edinburgh (1991) and a masters in mental philosophy also from the University of Edinburgh (1986). Professor Ramsay has published several books and many articles in philosophy, mainly in ethics.
---
The Coordination Portfolio is comprised of the following directorates:
The Office of the Deputy Vice-Chancellor (Coordination)
The Core Curriculum
Associate Vice-Chancellors and Campus Deans
The PM Glynn Institute
The Institute of Child Protection Studies
The Plunkett Centre for Ethics
The Queensland Bioethics Centre
The First Peoples Directorate
The Libraries Directorate
---
Contacts
Professor Hayden Ramsay
Deputy Vice-Chancellor, Coordination
Vice Chancellery
40 Edward Street, North Sydney, NSW 2060
Email: DVC.Coordination@acu.edu.au
Phone: +61 2 9465 9279
Patrick Langrell
Senior Manager, Operations and Programs
Email: Patrick.Langrell@acu.edu.au
Phone: +61 2 9739 2577
Rachel Casey
Executive and Project Officer
Email: Rachel.Casey@acu.edu.au
Phone: +61 2 9465 9396