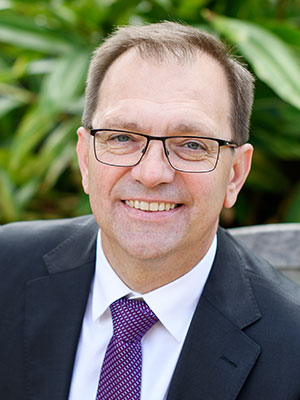 Professor Zlatko Skrbiš
Professor Skrbiš is a sociologist with a distinguished international research profile in the fields of migration, cosmopolitanism, social theory and youth studies.
About Professor Skrbiš
As Provost and Deputy Vice-Chancellor (Academic), Professor Skrbiš provides leadership for the distinctive ACU academic experience, drawing on the University's mission and the enduring tradition of Catholic higher education. The Provost, working across academic and professional portfolios, is also directly responsible for planning and overseeing programs of innovation across the University to drive transformational change. The role oversees ACU's enrolment planning, including admissions, offers and the university's growth and diversification strategy.
He leads the University's learning and teaching quality, student engagement and success, Global Education and equity pathways. Professor Skrbis' areas of responsibility extend from pathway programs, through to strategic partnerships, executive education, advancement and alumni.
Education at ACU contributes to the cultivation of graduate characteristics, assisting students to develop the skills and acquire the knowledge to thrive as skilled professionals and engaged community members.
Professional background
Professor Skrbiš is recognised internationally for his extensive experience in graduate research training and educational leadership.
Prior to joining ACU, he served as Senior Pro Vice-Chancellor (Academic) at Monash University and was responsible for the university's undergraduate and postgraduate curriculum, education policy, learning and teaching quality, transnational education and student academic experience.
He also oversaw the university's digital strategy, the Professions of the Future framework, employability strategy, graduate research policy and administration, supervisor training and the Monash Doctoral Program.
Professor Skrbiš was also accountable for the graduate programs across the Monash system, including partnerships with IIT Bombay and Southeast University in China.
He has held multiple leadership roles at the University of Queensland and social science lecturing positions at Queensland University of Technology.
Academic interests
As a sociologist with an active and distinguished global research profile, Professor Skrbiš is the Principal Chief Investigator on the multi-wave ARC Discovery Project 'Social Futures and Life Pathways of Young People in Queensland'.
Throughout his long-standing commitment to research, research training and development of early career researchers, Professor Skrbiš has supervised many PhD and MPhil students to successful completion as well as mentoring several early career colleagues.
With undergraduate degrees in both philosophy and the sociology of culture from the University of Ljubljana, Slovenia, and a PhD in sociology from Flinders University, Professor Skrbiš is also the author of four books, widely published in a number of scholarly journals, and an Adjunct Professor of Sociology at Monash University.