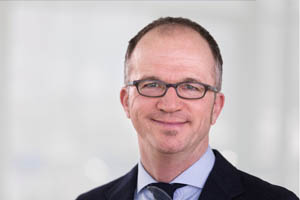 Professorial Research Fellow
Professor Markus Heinrichs was recently appointed an ACU Professorial Research Fellow in the Cognition and Emotion Research Centre. Since 2009, Professor Heinrichs has been Chair of the Department of Psychology and Professor for Biological and Personality Psychology at the University of Freiburg (Germany). Since 2010, he has headed the Social Neuroscience research group at the Freiburg Brain Imaging Center and has directed the Outpatient Clinic for Stress-Related Disorders. He has pioneered a new field, demonstrating that the neurohormone oxytocin is a key mediator in the regulation of human social cognition and behaviour, as well as establishing oxytocin as a target for novel treatment approaches.
Professor Heinrichs has publications in prestigious journals such as Nature, Nature Reviews Neuroscience, and Proceedings of the National Academy of Science of the United States of America (PNAS). He has been named one of the world's most highly-cited researchers of the last decade (evaluation of the top 1% of the most-cited publications in the natural sciences, social sciences, and medicine from 2002 to 2012) and has been placed on the list of 'The World's Most Influential Scientific Minds'.