Bishop Patrick O'Regan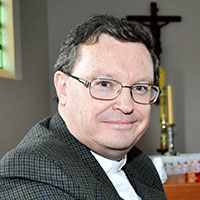 Chair, Bishops' Commission for Liturgy, Bishop of Sale, VIC
Bishop Patrick Michael O'Regan was born in Bathurst and was educated at St Joseph's Primary, Perthville, and St Stanislaus College, Bathurst. He studied for the priesthood at St Columba College, Springwood, and St Patrick's College, Manly, before being ordained a priest for Bathurst Diocese in 1983.
He served as Assistant Priest at Lithgow, Cowra, Orange and Bathurst before undertaking higher studies in France in 1994–95. He returned to Orange as Assistant Priest for three years, before being appointed Parish Priest of Wellington where he served until 2001–02 when he again undertook higher studies in France, obtaining a Licentiate in Liturgical and Sacramental Theology from Institut Catholique in Paris.
He returned to the diocese in 2003 and served six years as Parish Priest of Blayney, before being appointed Diocesan Administrator following the retirement of Bishop Patrick Dougherty in November 2008. When Bishop Michael McKenna was ordained on June 26, 2009, Fr O'Regan became Diocesan Chancellor, serving as Vicar General of Bathurst Diocese and Dean of St Michael and St John's Cathedral, Bathurst. Bishop O'Regan was ordained as the ninth Bishop of Sale on February 26 2015.