Past event: Catholic Women Speak - Leadership in the Church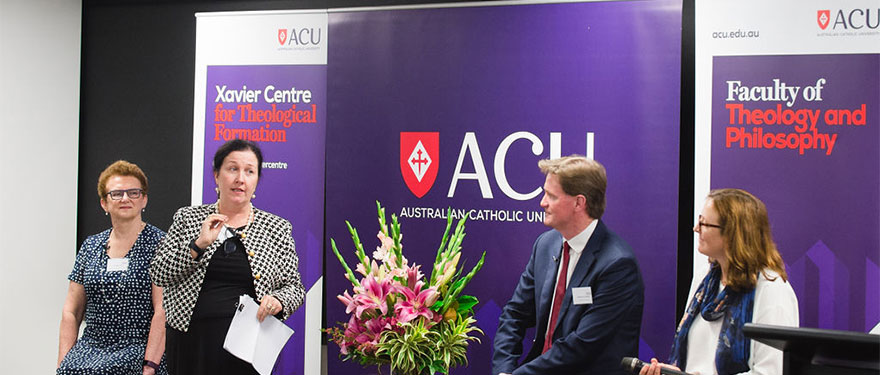 ---
To celebrate the launch of the second Catholic Women Speak book, Visions and Vocations, our recent event, Catholic Women Speak: Leadership in the Church, brought together a range of diverse voices to explore how we support the presence and formation of women for leadership roles in the Church.
Catholic women in Church leadership
The theme provokes the question: Is it possible? But perhaps this is the wrong question and even approach.
What could and should the Church look like in the future? What kind of leadership does that imply? What needs to change? And what is the role women have and need to develop more in helping to make this happen?
Pope Francis asks for help when he says "I readily acknowledge that many women share pastoral responsibilities with priests, helping to guide people, families and groups and offering new contributions to theological reflection. But we need to create still broader opportunities for a more incisive female presence in the Church... Demands that the legitimate rights of women be respected, based on the firm conviction that men and women are equal in dignity, present the Church with profound and challenging questions which cannot be lightly evaded… This presents a great challenge for pastors and theologians, who are in a position to recognize more fully what this entails with regard to the possible role of women in decision-making in different areas of the Church's life." Evangelii Gaudium 103-104
Our panellists
Ms Andrea Dean
Director, Office for the Participation of Women and Director, Lay Pastoral Ministry, Australian Catholic Bishops Conference
Professor Jim Nyland
Associate Vice-Chancellor (Queensland), Australian Catholic University
Ms Jenny Parker
Partner EY, Oceania Health and Life Sciences Leader
Dr Maeve Louise Heaney
Director, Xavier Centre for Theological Formation
Contact the Xavier Centre
For further information about the Xavier Centre, and any of our upcoming events and initiatives, please contact Dr Maeve Heaney, Director, Xavier Centre for Theological Formation.