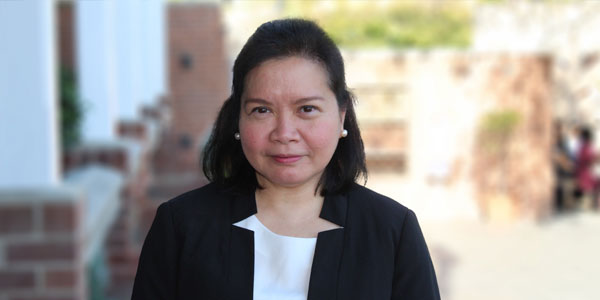 Dr Cris Abbu
Policy and Projects Manager, PM Glynn Institute
Campus address
ACU North Sydney Campus (MacKillop)
Level 14, 8-20 Napier Street (Tenison Woods House) North Sydney NSW 2060 Australia
Contact details
Email: cris.abbu@acu.edu.au
Telephone: +61 2 9465 9295
Biography
Cris is the Policy and Projects Manager of PM Glynn Institute. Prior to this role, she undertook research, policy, data analytics and evaluation work for various NSW State Government Departments, NGOS and for-profit organisations. She was also an instructor at UTS handling courses in Organisational Studies and Research Methods. Prior to migrating to Australia, she served as Consultant for various international development organisations operating in the Philippines, such as the United States Agency for International Development (USAID), Japan International Cooperation Agency (JICA) and Plan International. She was also an associate professor at the University of the Philippines, teaching courses in Macroeconomics, Finance, and Organisational Studies. She has undertaken significant work in research and policy for the House of Representatives, Philippine Congress, where she was the Congressional Officer of two key Congressional Committees--- the Committee on Economic Affairs and the Congressional Planning and Budget Office.
She completed her PhD at the University of Technology Sydney in 2014 on an Australian Postgraduate Award. She was also awarded the Australia Awards-Endeavour Fellowship for Research in Asia for her PhD thesis. She spent 2005-2006 at the Senator Edward Muskie School for Public Service, University of Southern Maine in the US, on a public policy fellowship from the Muskie School. She also finished her MBA from Western Sydney University in 1997 and a postgraduate degree in Economics in 1992 from the University of the Philippines-Diliman.
She has written papers on competition policy, small enterprise development, trade and investments as well as on social issues such as mental illness, homelessness, child abuse and neglect, maternal and child health care, including childhood morbidity and disease burden in low income settings in developing countries.
She sits on the Board of the Australia-New Zealand Third Sector Research (ANZTSR). She is also a member of the International Third Sector Research (ISTR) and the Economic Society of Australia (ESA).