Effective pitching is an integral skill in the sales process, especially in highly competitive business-to-business markets. Entrepreneur and entrepreneurship academic Dr Hormoz Ahmadi will help you improve your pitching and storytelling skills. The session will be interactive and allow plenty of opportunity for discussion.
Learning outcomes
Identify appropriate communication mediums, instruments, and tools for a pitch presentation session.
Use proper responding techniques to effectively handle the objections.
Prepare for a pitch session with time limitations.
Structure a professional pitch presentation.
About the presenter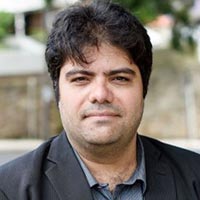 Dr Hormoz Ahmadi is a senior lecturer in innovation and entrepreneurship at Australian Catholic University's (ACU) Peter Faber Business School. His teaching interests include new venture/entrepreneurial firm development, business-to-business marketing, sales management, international marketing, marketing management and market research. His research focuses on entrepreneurial marketing, product and brand innovation and customer-firm relationships. Over the past six years, Dr Ahmadi has been involved in identifying the trends and conducting research in the areas of product and brand innovation management and new technology ventures growth. Dr Ahmadi was also an entrepreneur, sales engineer and marketing manager in the telecommunications and electronics industries for 10 years before joining academia. His research has been published in well-reputed and high-rank marketing and entrepreneurship journals. He is currently collaborating with and managing several industry-relevant research projects.
About the program
The Launch Plus Incubator Program is a series of workshops hosted by ACU Collaborate Plus, Australian Catholic University's entrepreneurship and innovation hub.
The series is designed to take you on a journey through the key stages of starting a business, or simply further your entrepreneurial skills to take advantage of future opportunities. Attend the full program for maximum benefits or choose specific workshops relevant to you and your aspirations.
Workshop topics include:
design thinking
developing and testing your business idea
identifying your target market
pitching and telling your story
business legal basics
digital marketing
setting up an online store.