Contribute to the community as a team
Community engagement is a great team building exercise. If you are interested in participating in a community engagement opportunity as a team please contact ACU Engagement to discuss your needs and we will work with you to identify an appropriate community partner.


Tackling the Big Issue Challenge
The Office of the General Counsel and Governance Directorate teams came together to participate in a community engagement opportunity that saw them partner with The Big Issue to undertake The Big Issue Challenge. The day saw them breaking into teams and travelling to the Sydney CBD to support The Big Issue vendors, the objective: to sell as many copies of the magazine as possible.
Armed with their creative sales strategies and bright, eye-catching marketing materials, the experience took the teams out of their comfort zones, but also gave them a unique chance to undertake an empathy-building exercise. Staff were put in the shoes of someone experiencing significant disadvantage seeing first-hand how passers-by treat them.
"Perhaps the most confronting element of The Big Issue Challenge was dealing with being ignored on the street. Many people walked straight past us, avoided eye contact or tried hard not to engage," said Dr Diane Barker, General Counsel and Director of Governance.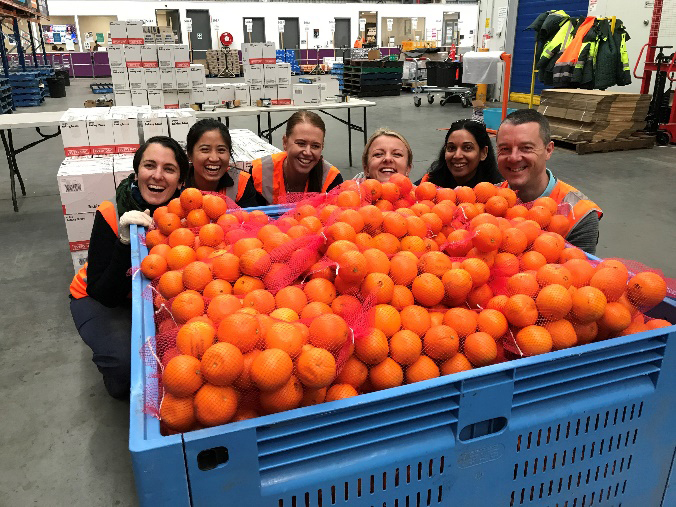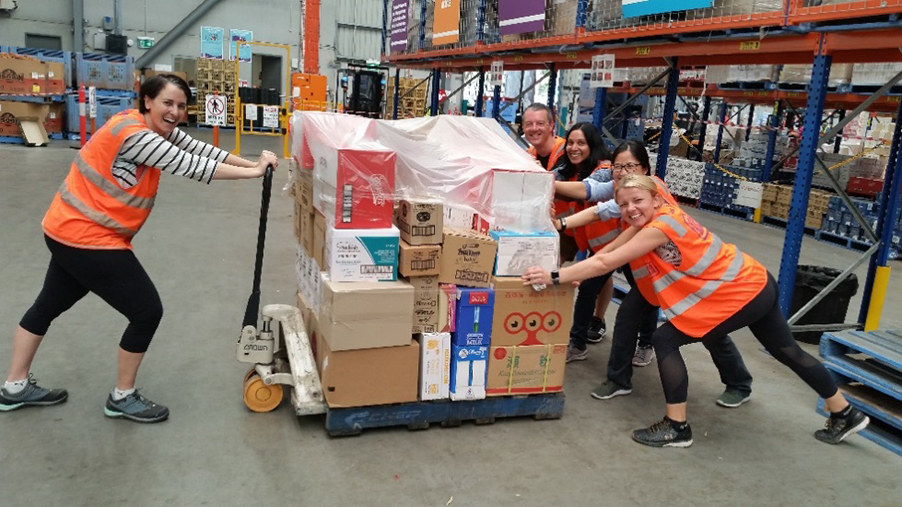 Thought for food and food for thought
The Office of the Vice-Chancellor and President (OVCP) travelled into Sydney's western suburbs to participate in a community engagement opportunity at Foodbank NSW and ACT. Foodbank operate with a staff of approximately 100 employees and over 3,000 volunteers. In NSW, they distribute approximately 200,000kg of food each week and rely solely on volunteers to do this.
Together with other volunteers, the OVCP team packaged an enormous 1,347kg of oranges, 2,415kg of apples, 750kg of mandarins and 2,436kg of potatoes that were made immediately available to Foodbank's network of community based non-profit partner organisations that serve individuals and families in need.
Sheyana La Brooy, Senior Communications and Administration Officer in the OVCP, said this about her experience on the day:
"It was rewarding to think that the food we packed could be reaching hungry mouths within the week! What was most impressive was to see that Foodbank is a well-managed, innovative and efficiently-run organisation meeting a real and immediate need in the community. The smallest of details have been addressed to ensure nothing goes to waste. This experience also provided a valuable opportunity to work with colleagues and interact with like-minded individuals from other institutions. Whilst our work was but a small part of the operations of Foodbank, it is a collection of such small parts working together that makes the whole operation run successfully. Many hands make light work and it is clear that this coming together of individuals is key to the success of Foodbank in feeding the hungry."
The team enjoyed the opportunity so much that they have since returned for a second engagement day and are continuing to strengthen their ongoing relationship with Foodbank.
ACU Engagement
We are committed to ensuring that all staff and students have the opportunity to make a contribution to their community that is feasible and meaningful to them, and that meets community needs in a way that is valuable and respectful.
Contact us to discuss how we can help you get involved with your community.